May 19, 2021
How to Optimize Facebook Business Page
How to Optimize Facebook Business Page
Facebook Continues To Grow (Despite The Scandals)
Of late people are claiming it's becoming harder to get tons of likes on Facebook.
For businesses especially, it has become a "pay to play game". That is you advertise, then you get exposure.
Some think it's unnecessary to even open a Facebook business page.
Aside from the fact that there is a lot of bad Facebook publicity out there for Facebook with their privacy and data handling approach – the fact is – Facebook remains the biggest social media channel today. It has surpassed users, revenues, bottom lines even with all these controversies.
I am not a huge Facebook user, but I still respect its capability to deliver and drive growth for us and our partners.
Facebook is the most famous social medial platform. Think about reaching billions of potential clients. The platform has 2.7 billion users! This is the number of people who log in at least once a month.
With such numbers, a Facebook business page becomes a good way to get exposure, new business, and visibility for your brand.
More so, it's hands-down the reliable way to reach people in the community, let alone the world.
Okay, that is enough praise for Facebook and we hope you can see why it is still a viable marketing engine for many brands today.
Optimize Facebook Business Page To Get Ahead
The best part for opening a Facebook page and still get business exposure, build a community (apart from spending your time and expertise) – the cost is $0.
Meaning you won't incur marketing expenses until when you decide to pay for ads to boost posts or use their ads manager.
With a well-optimized Facebook business page, you can expect decent exposure and visibility. Facebook presence should also align with business objectives and mission. It's also crucial to stay updated on new features and products of pages.
Besides, having a Facebook business page has become a point of entry now for most brands (not a point of differentiation). It is like having a business card in the old days. People have websites now, a Facebook page, and a couple of other social media channels. Many small businesses do not even have a website but have a Facebook page.
So the question becomes, how do you ensure your Facebook works for you?
We help answer this question by getting into choosing the right name for the page, provide tips to embellish and stand out with a killer about us section, help find the right category type to be the best fit for your Facebook business page and then finally we talk about SEO within Facebook with keyword placements.
These tips should help you get more visibility on this huge social network.
So let's get into it. Here are some tips to optimize your Facebook Page.
Pick the Right Name
Choosing the right name for your Facebook business page might take a toll on you, Creating a business page is different from a fan page.
First, ensure you keep it simple. This is not the place to play with ambiguous words. Stick to the business name without adding additional unnecessary confusion.
Come up with something people will remember and search easily if your brand name is already taken. The name should be easily understood as associated with your company or product brand you want to create the page for.
Again with branding, it is important to maintain consistency to ensure you reinforce your brand message across every touchpoint in the same way – thereby really building deep and lasting impressions in the minds of your audience.
Additionally, the name should be short. Avoid stuffing the page to ensure it doesn't appear spammy. A shorter name will also look better in an ad.
When completing your profile – take your time to get the URL link as close to your business name as well.
Beef Up Your "About" Section
Your ABOUT section is the doorway to your brand. Creating concise, creative, and clear bios on social media platforms is indispensable, and Facebook is no exception. The ABOUT section os often overlooked, not knowing that it plays a crucial role.
Use the right category selection to ensure you get the right exposure for your audience.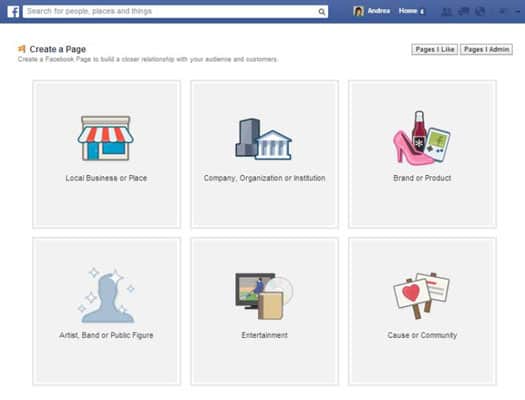 Image source: Dummies.com (What, it was a good article!)
Picking the right page will help you to get in front of your audience the right way.
Local Business or Place
If you have a local address and want to participate locally and people can come to your office, store, or place of business, then go with the "Local Business or Place" option.
Also, Not For Profit fits in this section as well if they have a local walk-in and address in their operation. You would think that they fit in the "Causes or Communities" section, but Facebook treats it as an organization.
So, when going with this option as a non-profit-based organization, select Not-For-Profit as the sub-category in this option.
Company, Organization or Institution
Not open to the public? Have many stores but do not want to create a separate Facebook place for each of them?
Then this may be a better option for your business.
Brand or Product
If you are in the business of selling merchandise or products, then this is the page you want to ensure you have.
There are a ton of other subcategories offered within this category, so choose wisely. Find the exact or closest match.
Now with Facebook launching Facebook Shops in 2020 – this is a good option to be a brand and or product-based business that sells merchandise online. Facebook is making it very easy to conduct transactions and sell online for small businesses. Many small businesses do not even need a website anymore to open an e-commerce store – they just take advantage of this shop feature within the platform! (Facebook encroaching in Shopify's territory with this move 🤔)
Artist, Band or Public Figure
Are you popular? Are you an artist? How about a politician? Yup – any public figure or band who wants to create a way to connect with their audience on Facebook can now do that the optimal way with this approach.
Here is an example of Red Hot Chilli Pepper's Facebook Page: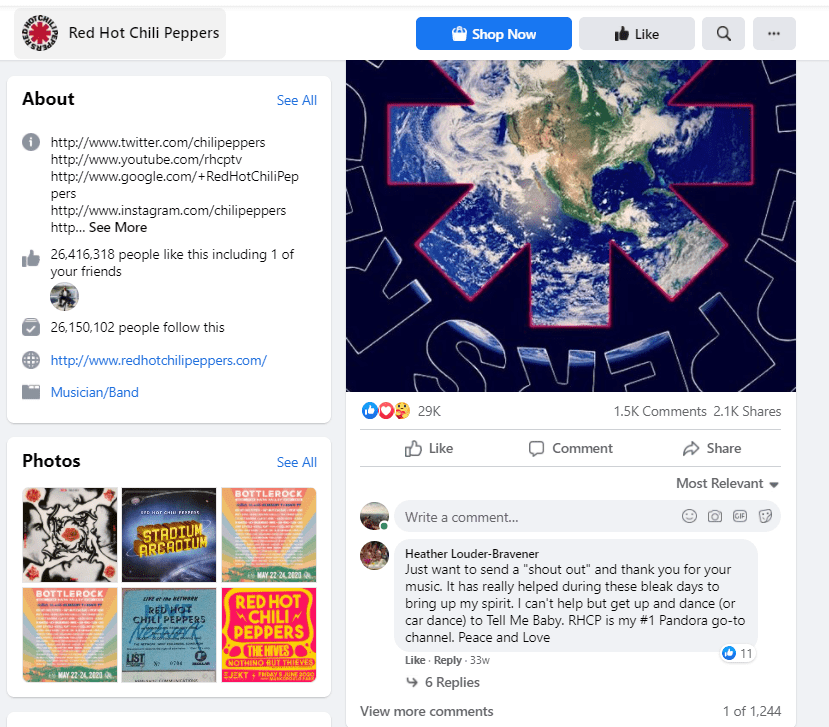 Here is Jay-Z's Facebook page: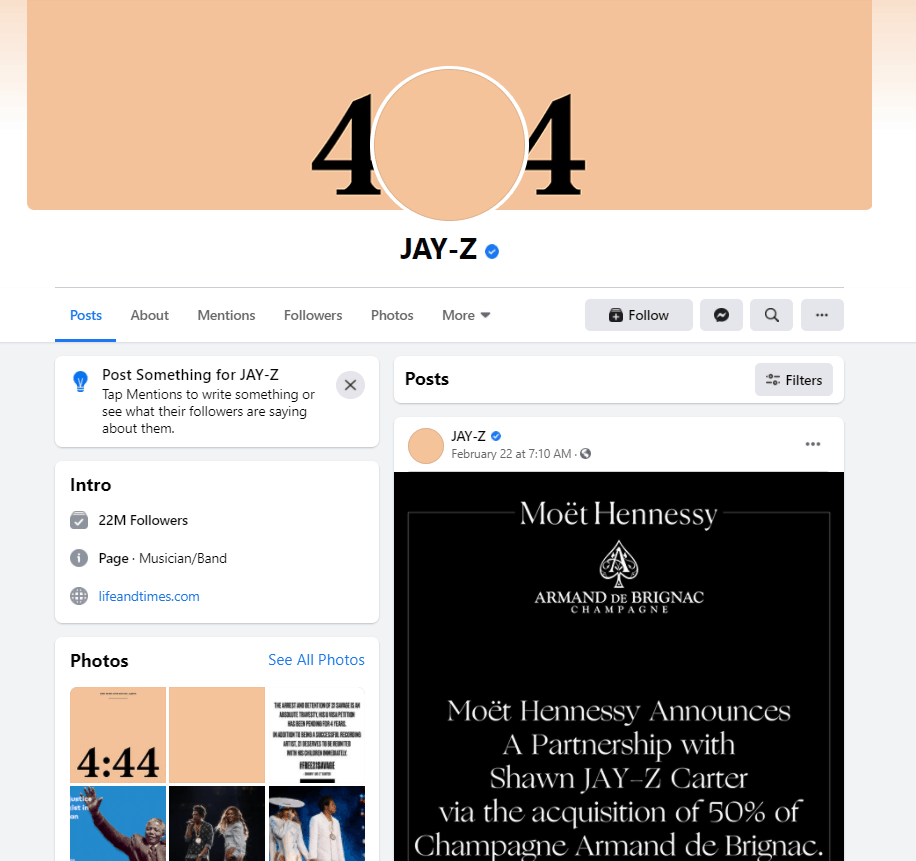 Again – the rich and famous – this is your safe bet!
Entertainment Category
This is for the budding YouTubers, magazines, podcasts, and TV Shows.
Here is Stephen Colbert's Facebook page (notice the TV Show in the page description):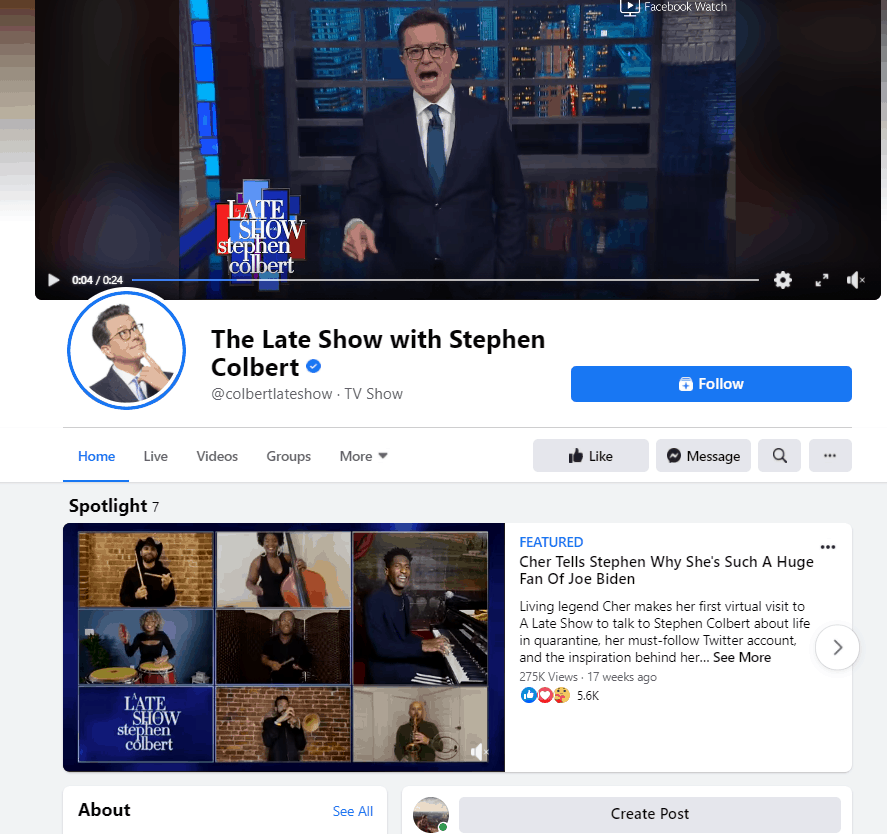 Causes & Communities
Facebook has gone gung-ho on groups and communities now (that is how they are building a new user base even as other social channels are plateauing). Read more about this strategy for Facebook to grow its user base here with India being the biggest growth market for them in 2020. (good read by Social Media Today)
The Killer Captions & Bios
When visitors come to your Facebook business page, what do you want them to conclude about your brand? This section gives the overall quality, understanding, and appearance of the page. It gives vital information about the brand, product, and services
There are some common mistakes entrepreneurs make when updating the ABOUT section, including:
Long summaries- No one wants to spend more than a minute reading those long sentences.
Failure to include a link to the website.
No clear explanation about the brand.
If the page is categorized as a local business (associated with a physical location), you need to include the telephone number, hours of operation, and of course, the address.
Here is an example of local businesses showing up on search result pages on Facebook because they have updated and local verified address on your Facebook Business Pages: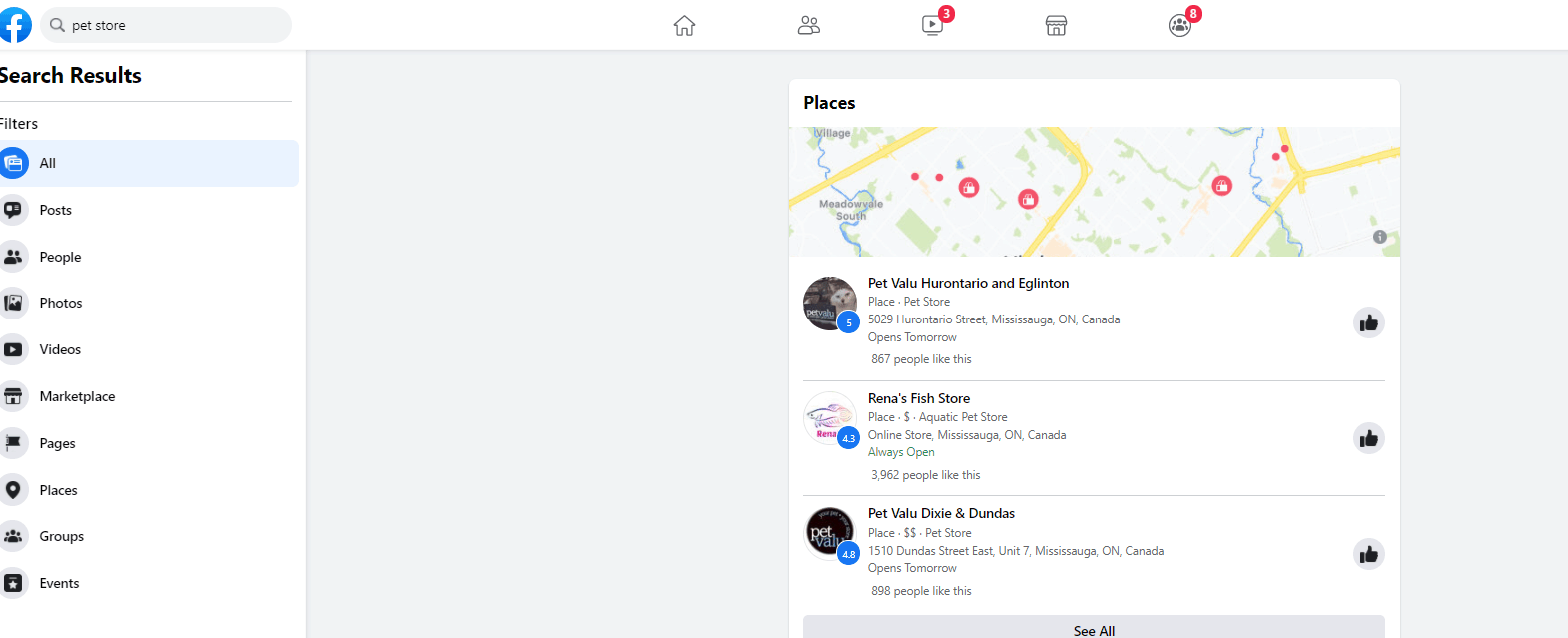 If I am a pet owner (which I am not – yet 😊) and a heavy Facebook user, I will look for solutions here. Pet Valu is using the Facebook business page set up correctly to maximize its exposure.
Take some time you can create a short, precise bio and a link to the website.
Some brands get creative and use the pages for calls to action, vital information, or special offers.
Enhance Your Profile
We all randomly follow profiles we like on Facebook. Good and beefed-up profiles attract likes from Facebook users. They show their appreciation to the profile by following and liking the page instantly.
When it comes to a Facebook business page, avoid using your profile. The picture should resonate with the brand idea. The picture should scale well visually.
If you want to make your presence felt on this social network, the business page needs to be attractive, which translates to likeability and more fans. Fans consume your content with ease and share the content pretty fast – especially if it is engaging and the brand resonates with the target audience.
Plus, a branded page looks professionals, which will amplify the benefits of being on this social platform.
Start by creating a big, beautiful cover photo. The picture should be crystal clear, concise and depicts professionalism.
Include some text to tell potential clients more about your brand. Facebook's guidelines offer a comprehensive guide. You may use a bold yet simple cover with a matching logo profile. Don't forget to bring up links and poll.
So, what should be in your images, photos, and videos? Your clients want to see the human side of your brand. Hence, photos for employees or customers will do the magic. Take advantage of memes that everyone will recognize. If you host events, take lots of pictures and create a stunning album for your page.
Facebook SEO: Use The Right Keywords
We talk about great lengths in our article published earlier this about the use of SEO and Social media and how they are integrating over time.
Must Read: 3 Proven Methods SEO And Social Media Integrate To Drive Brand Visibility (With Succesful Examples)
Rightfully placing your target keywords in your profile will help it get discovered when people use the Facebook search feature to look for solutions to any of their problems.
Here is an example of a pet store using the keywords in their profile to show up in my search when I type in: "Pet Toys"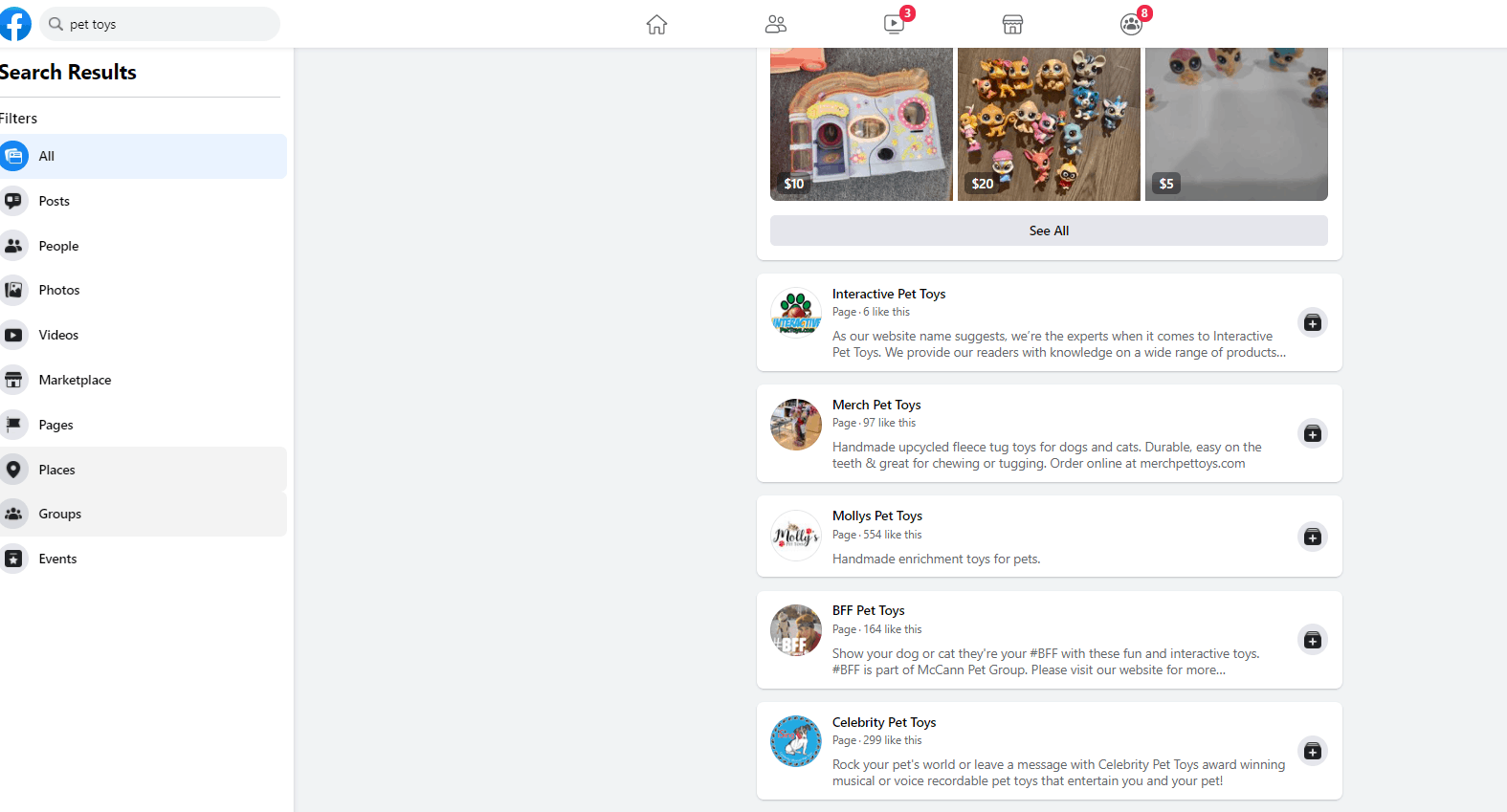 (I really have pets on my mind as I write this blog today 😉)
I see image descriptions with photography right off the top. But I also see a business with Pet Toys in their names and descriptions.
People search for pet toys on Facebook and a ton of other things when they are casually browsing.
In fact, according to Facebook itself – from the research it did, using surveys of 10,340 people across 18 countries found that two-thirds of Facebook users visit local business pages weekly!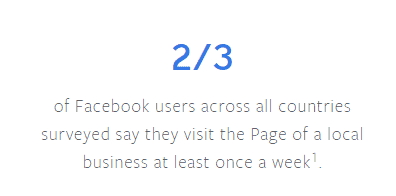 Image Source: Facebook Business Page
Why not take advantage of this opportunity to get discovered and gain extra visibility for your brand by strategy placing keywords in the following areas:
Name (if the keyword is in your name -otherwise I would avoid it)
In descriptions
In your hashtags, if you use them in your post
In your captions
In your about us section
In your call to actions
Wrapping Up
As you can tell, there are a lot of factors to consider even when creating and optimizing your Facebook page.
Facebook wants to increase its user base and thereby increase its ad revenue potential (from $20.7 billion in 2020 to new highs in 2021 and beyond).
Hopefully, the above is useful for your brand, product, band, institution or company.
The best part is that if you get it wrong and are not seeing results, you can always change it and try it again (as Facebook wants you to stay and they make it easy to change).
If you need help with any of this and want our social experts at Web Worx Labs to guide you through any of it, reach out and we would be happy to help.
Happy Facebooking!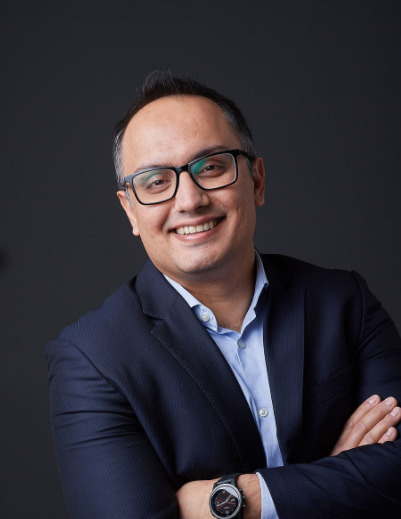 From a start-up helping local small businesses, over a span of 5 years, Usman has built Web Worx Labs to be a leading provider of digital marketing solutions that employs 15+ full-time employees and has customers in over 30 countries.
Outside of work and his passion for all things digital, Usman is a proud father of three, loves running and is an avid reader.
Follow Usman on LinkedIn or Twitter as he is always sharing tips on strategy, branding, marketing and analytics.