March 31, 2021
3 Proven Methods SEO And Social Media Integrate To Drive Brand Visibility (With Succesful Examples)
3 Proven Methods SEO And Social Media Integrate To Drive Brand Visibility (With Succesful Examples)
Opening Thoughts On SEO And Social Media
The two of the most in-demand digital marketing tactics are Social Media & SEO: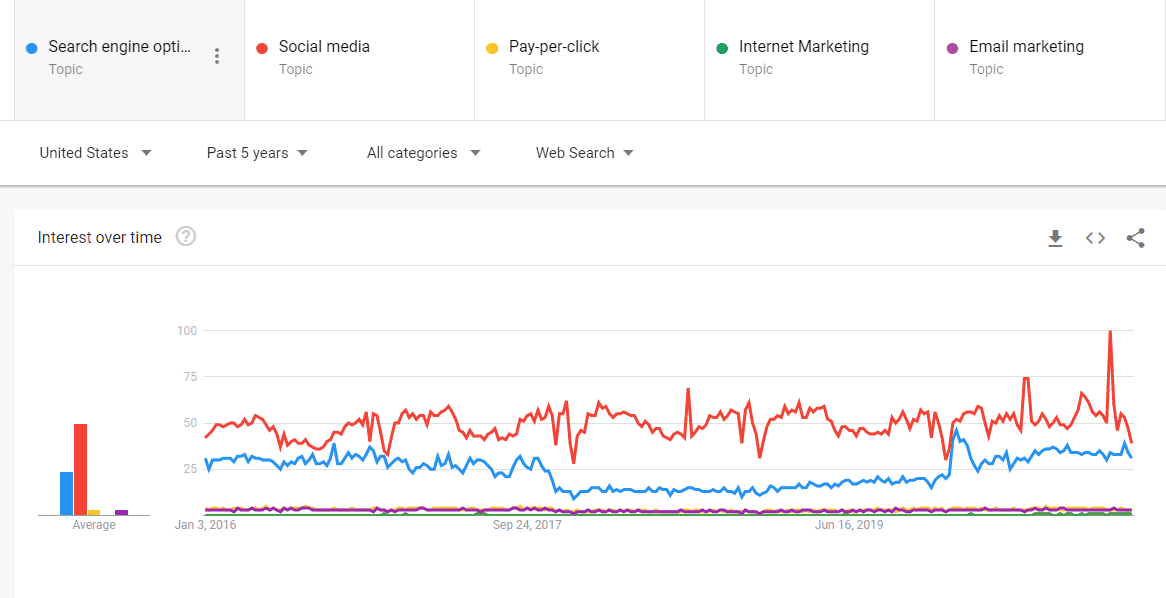 Source: Google Trends
SEO generates a lot more search volume and interest on Google than even terms like "digital marketing"
Search Engine Optimization & Social Media are hands down two of the most popular and sought after solutions when it comes to digital marketing. The demand for them even is higher than email marketing, digital marketing in general, pay per click and other tactics within online marketing.
Rightfully so, because unlike paid traffic, you really do not pay per click for every time someone discovers your brand online. (Google makes money and bulk of their revenue with pay per click advertising – and it seems people are more interested in getting clicks without having to pay for each of them).
Well, we also know that people are using social media now more than ever with the world in the new normal.
However, did you know that there is SEO involved in Social Media as well?
People are in search of a product or service on social media sites all the time.
In 2021, with Facebook Marketplace and Shopping becoming mainstream, SEO within social media will become more of a necessity than ever before.
As social media marketers tend to skew towards content creation for the social media platforms they specialize in and go after goals such as brand awareness, customer and follower growth, or building a community – SEO has not been sought after skillset required when managing social channels for brands.
However, as SEO and social converge, how can social managers and marketing managers adapt to this new requirement of bringing SEO elements to their daily tasks and deliver great content that gets discovered on social channels as well?
Well, the two are more closely linked to each other than it would seem at first pass.
Content That Drives Both SEO & Social Discovery
Social media contributes a lot to the search engine. It creates tons of new content every day.
Websites tend to upload reviews, blogs, news, and discussions daily, where do you think most of the relevant information is coming from?
Search engines get much content from social media sites, and that is why when you search for something, the reference/source can sometimes be derived from a social media platform.
For example, when we type in "Starbucks" in Google – the 3rd to 5th results I get is their Instagram feed which is appealing with beautiful photographs and immediately stick out. This allows people to discover the brand in the way they want and use social channels and media optimization as a powerful way to put their best foot forward right within the search results.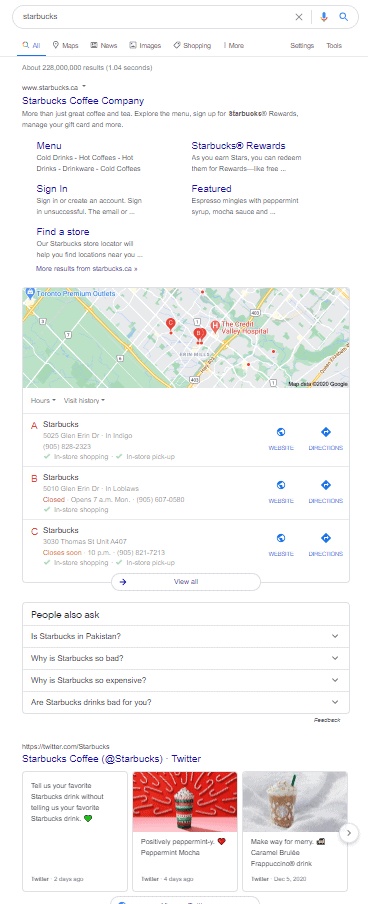 So social profiles optimized with a ton of relevant content get discovered right on the first page of Google when someone is exploring your brand.
Create Content For SEO & Make It Easy To Share
Running with the same example earlier, if we search for a specific solution on the market for a search term such as "iced latte" – here are the results we get: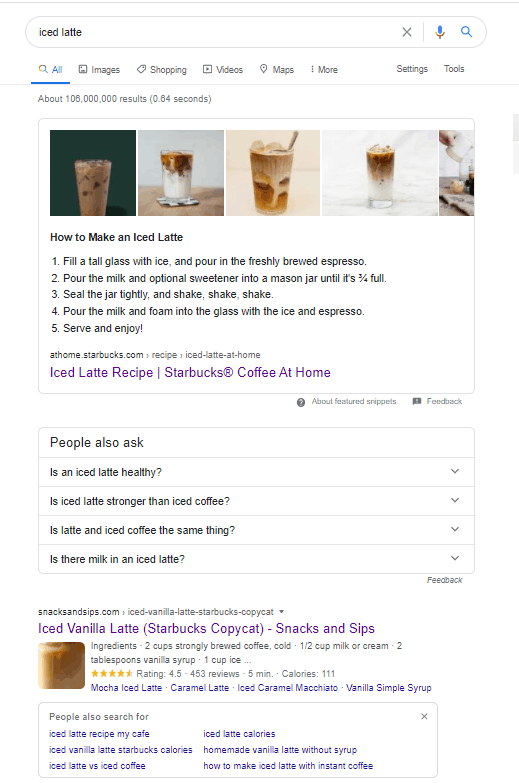 The first result is the featured listing of Starbucks with detailed step by step instructions on how to create a recipe for home. So obviously, their pages are optimized for discoverability and search engine there. Good job Starbucks!
(no surprise here – Starbucks knows how to market 😉).
However, unless someone does click on their site and go to their recipe page for the details, they have focused their user experience on driving the buyers' journey towards the online transaction.
Where they missed the mark in our opinion is that they did not make the recipe on their page that is optimized for search engines easily sharable on social media.
See the snippet below – no social ribbons right at the top (missed opportunity).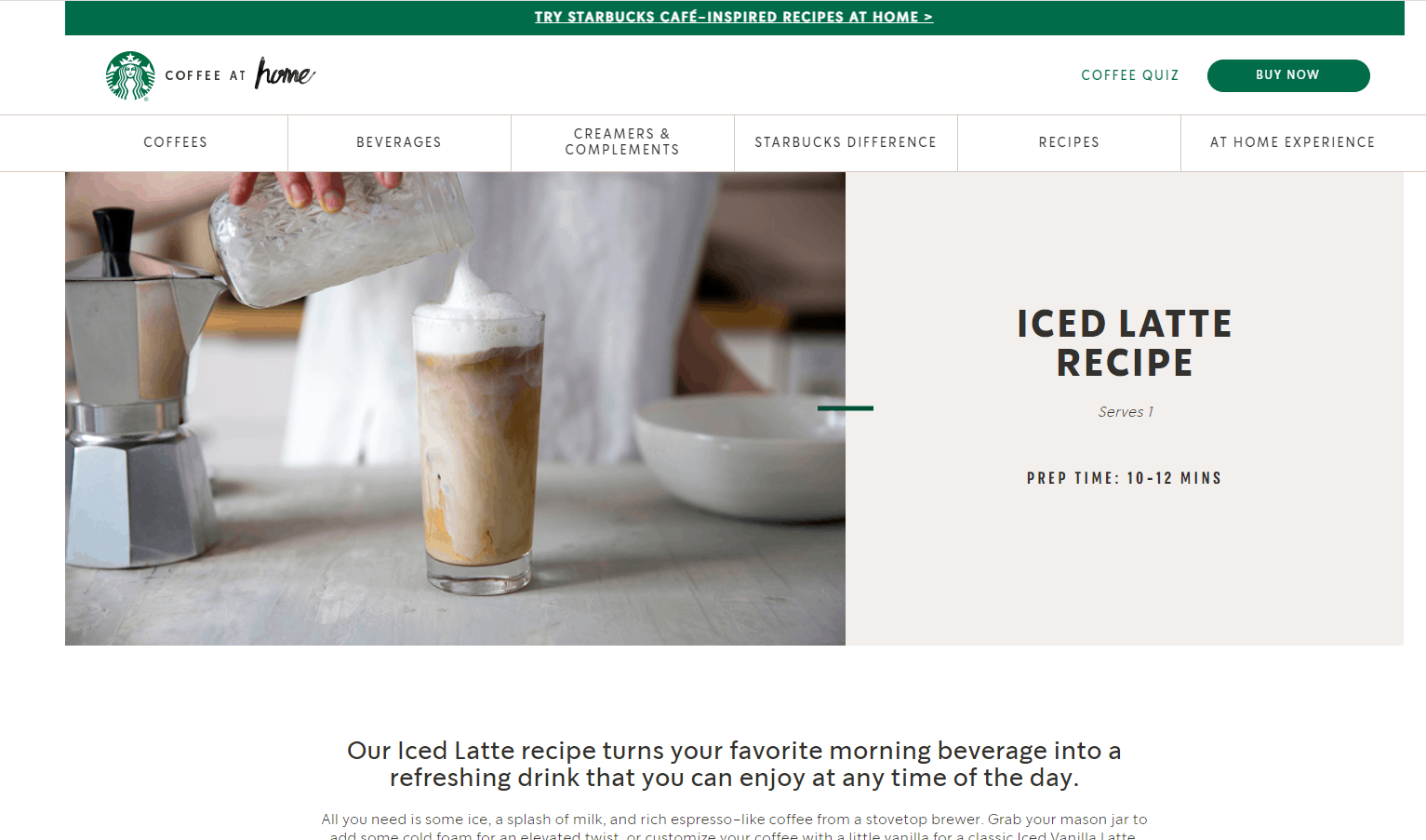 Source: Starbucks Ice Latte Recipe Page
On the other hand, the listing right below with a structured snippet 5-star rating has not only optimized for search but is using search discoverability to give a boost to their social engagement. See social buttons right at the top with Facebook/Twitter/Pinterest.
Source: Snack And Sips Iced Latte Recipe Page
Snacks And Sips are not only doing good SEO but leveraging SEO to boost their social engagement and integrating the two digital tactics for maximum exposure online.
(Beating Starbucks on marketing is no easy feat, but at least they have one point on them 😊).
Integrating social media deeply and optimally into your site is critical for having a one-two powerful combination to help get discovered and social.
Optimize Social Media For Search
If for whatever reason, your site is not optimized, but you have a good social presence, your brand can still get discovered on search engines.
When we have worked with many small clients that have virtually no SEO on their site (or some times, they may not even have a site), but they have a Facebook presence or a LinkedIn presence (this has been true for some of the budding authors we have helped market their brands online) – they still get discovered.
Example 1: Optimizing Search Profiles
You have key factors to optimize on social including
Your profile titles,
Descriptions
Your Posts & content
Your use of hashtags
Keywords Play A Role In Social & Search
Your profile should contain the keywords in the descriptions, the titles, and the names of the profile if possible.
You want your brand to be discovered both on search engines and social media when people search for a keyword you want your brand to be associated with.
Here is an example of an author who has the right keywords in their profile, in the title they have given themselves to rank when people search for a keyword "Strategy Author"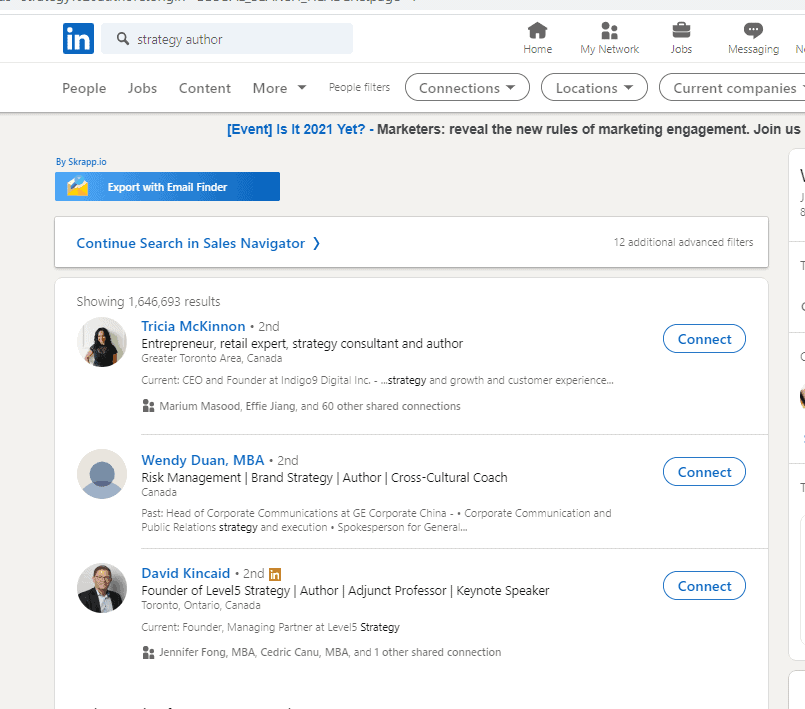 Image Source: Searching Strategy Author in LinkedIn Search – profiles optimized in LinkedIn Search Engine.
In this case, the author and expert Tricia McKinnon understands the importance of having the right keywords that you want to be discovered for.
Example 2: Your Brand's Social Profile Showing Up On Search
Another example we can share with you is showing your brand on search engines when people want to find out about you through social media. When people type in "Web Worx Labs" – the results not only show our website ranking right on the top but also shows our LinkedIn Profile, Our Facebook profile, and other directories that we want to be associated with: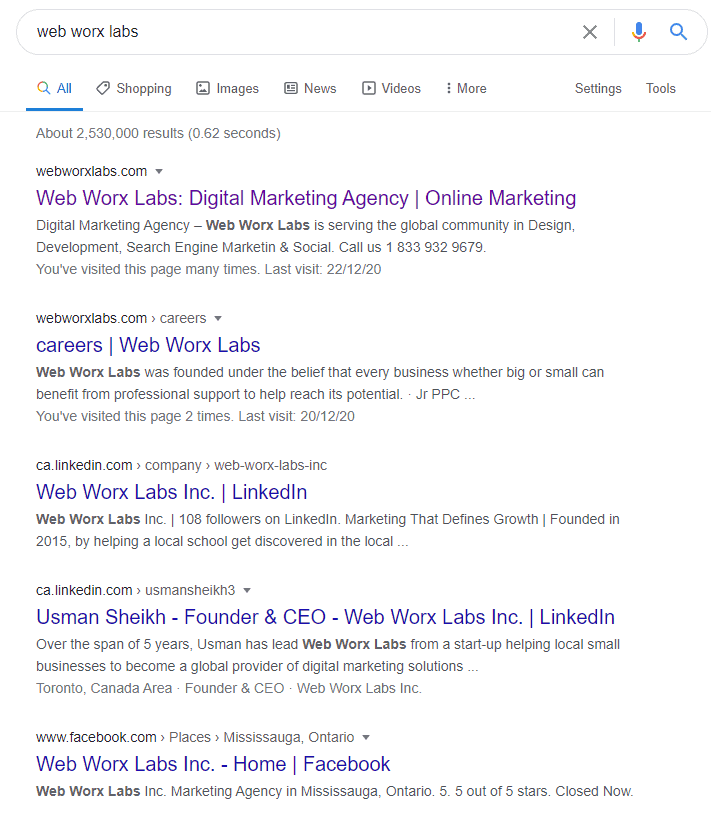 This helps build the right impression to others who are searching for your brand. They get to see that not only are you active and accessible on your website, but you have an active profile on social media networks where you can be contacted through.
You also get to showcase your values, expertise, and behind the scenes with social media.
To rank on search engines, your profile has to be optimized with the targeted keyword.
The Indirect Affect Of Social Media On SEO
Ultimately, the traffic coming from the website comes from many sources.
If your brand is active on social regularly, then it is getting discovered when people engaged with your brand on your social media profiles.
The goal is to get your traffic to your site where conversions can happen.
A conversion can be a sale, a sign-up a contact-us, or any event you describe as behaviour that your visitor does.
When people come from social sites, this is considered "Referral" traffic in Search Engine Optimization Terms (particularly in Google Analytics – which is a website analytics tracking application freely provided by Google and widely adapted and used across most digital marketers).
The more engagement you have on social media, the more people visit your site. Given they visit your site and spend time there, and share your content from your site to others, the better it is for SEO.
Google and other search engines take into account behavioural factors that show how the users are behaving when visiting your site. The positive user behaviour is tracked & accounted for when comparing your site vs. your competitor's site. If your site has better content and better engagement, it is optimized and it gets a boost from social, then your site will rank better on SEO over time as well.
See how your referral traffic had an indirect impact on your site's rankings?
Your positive on-site behaviour from users that were directed from social had a positive impact on your search rankings.
So in essence, user satisfaction plays a huge role.
Your website can drop in search rankings based on the user satisfaction metrics which include such things as:
Dwell time (Dwell Time is the amount of time that a Google searcher spends on a page from the search results before returning to the SERPs)
Bounce rate (people coming to your site and exiting without performing another action on your site – clicking, leaving, etc).
Pogo-sticking (going back & forth on search results until they find what they are looking for)
So if people come to your site from social media & add to the user experience metrics positively, it will be factored into your ability to rank.
To find out more about how the on-site behaviour impacts your ability to rank – you can read up in detail in the great guide produced by Brian Dean and the team at Backlinko.com here.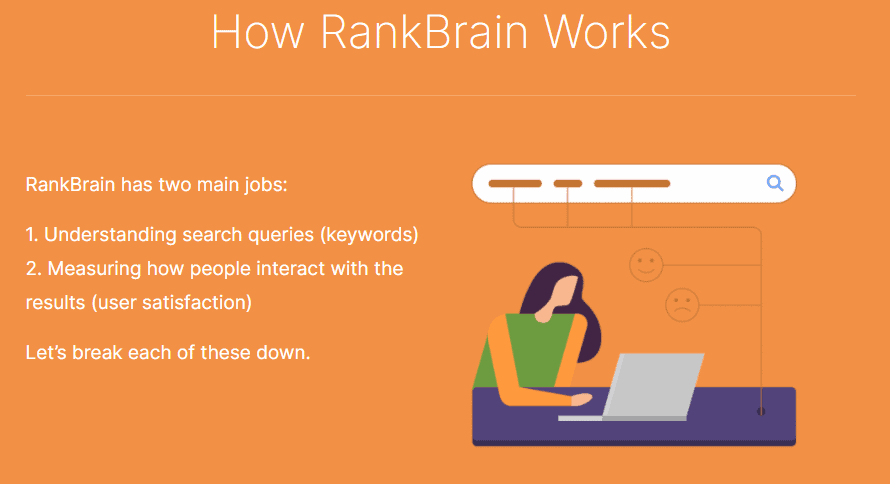 Image source: Baclinko.com/google-rankbrain-seo
Leverage Traffic From Social Until You Rank On Search Engines
SEO takes time to get on the first page where you get the visibility and traffic your brand needs.
However, if you have a good social strategy and have frequent content updates, your referral traffic from social will give your brand the visibility it needs right away.
In this case, we are referring to a blog, a news update, a new product release that you have done on your website and can now promote on Social Media to direct traffic from Social to your website.
Given the social platforms algorithm updates that are now all moving towards the "pay to play" model for brands, we recommend that you put some ad dollars behind your website content updates that you post and share on social media.
A simple boost with relevant targeting can give your website the immediate clicks it needs to get exposure top to the middle of the funnel audiences.
Better on-site behaviour when people have been directed from paid traffic sources can act as a positive signal to search engines that track user activity when helping it rank – as mentioned in our previous section.
Conclusion
Now you know how social media marketing and search engines are related.
You also have a good idea of how social media marketing affects discoverability when combined with SEO.
Leveraging social and SEO together will require multiple disciplines in digital marketing to come together. You can develop and execute the strategies outlined in-house or hire an agency to get.
The beauty about hiring an agency is that it will help you get the expertise in these functions at a fraction of the costs if you were to hire this team internally.
There are a ton of great agencies that can help integrate your social & SEO campaigns seamlessly. Some of these Search Engine Marketing Agencies are worth checking out.
Our customers know we make the top list among the best at Web Worx Labs as we leverage social and SEO for most of our campaigns to generate the greatest visibility and returns for our partners.
Want to know more about social media marketing and how it can be optimized also for search discoverability?
Find out what social media marketing can do for you or your business – learn more on our blog for more interesting insights and research.
We would love to hear from you – feel free to contact us, or comment below!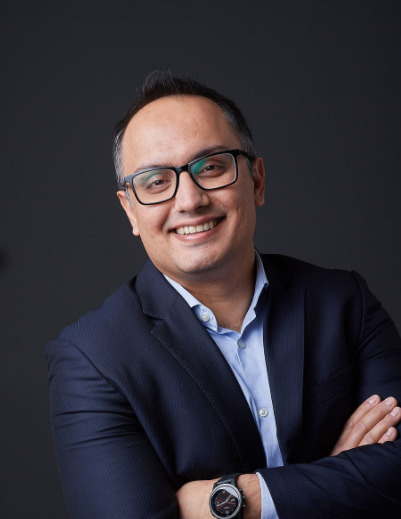 From a start-up helping local small businesses, over a span of 5 years, Usman has built Web Worx Labs to be a leading provider of digital marketing solutions that employs 15+ full-time employees and has customers in over 30 countries.
Outside of work and his passion for all things digital, Usman is a proud father of three, loves running and is an avid reader.
Follow Usman on LinkedIn or Twitter as he is always sharing tips on strategy, branding, marketing and analytics.