May 26, 2021
7 Best Ways To Leverage YouTube For Retail
7 Best Ways To Leverage YouTube For Retail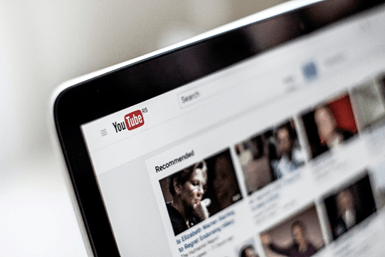 So you are wondering how to use YouTube for retail brands effectively?
YouTube has a huge audience, who tend to spend more time on YouTube. than most other social media platforms!
Video marketing is growing, and YouTube allows for a great way for brands to build a following, gain exposure and engage your customers or prospects for retail brands.
In today's blog, we walk you through the best practices (with examples), best strategies and why your retail brand needs YouTube.
Why do you need to leverage YouTube for your retail brand?
As discussed earlier, YouTube is the second largest search engine only after Google.
It provides tremendous opportunity and discovery potential as a marketing platform for both small- and larger retail brands.
Various marketers around the globe have been leveraging YouTube for so many years.
Demand for video content on YouTube has always been high since its inception.
So, before we get into the ten best ways to leverage YouTube for your retail brand, let's discuss why you need to do that.

Source: Broadbandsearch.net
·      Massive Audience
There are about 30 million daily active users and the average visit time is over 40 mins (not monthly, on an average day). There are about 5 to 7 billion videos watched every day. Therefore, it is needless to say how important YouTube is to promote your retail brand.
·      The Future of Marketing Will Have YouTube
Leveraging YouTube for our retail brand is more efficient and effective as compared to other means of promotion. Many marketers are already turning to YouTube for their brand promotion for a reason. That is due to its nature of being more effective and easily approachable by the audience. The research estimates estimated that by 2022 online videos will make 82% of all the Internet traffic 15 times higher than in 2017. A large reason for this is the fact that videos make things easier for people to understand.
·      High Possibility Of Engagement
There are various types of video types that can be uploaded on your brand channel to increase traffic, visibility and engagement.  Build trust, establish credibility, make a connection by providing different video types in playlist format.  Have a section on product innovation, one about educating on product specs and another list of culture and the brand essence of the company.  All of these types of video content allow brands to define themselves first and appeal to their target audiences in a unique way.
·      Effective Flow of Content
YouTube makes it easy for our content to get shared through other channels. Recent studies reveal that people tend to buy more things after watching the video.
A content marketing plan should be in place to upload regularly so your updates on the channel show up on people's streams when they are browsing to always stay on top of mind and really establish that trust.
The 7 Best Ways To Leverage YouTube For Your Retail Brand
No hard and fast rule can ensure your brand's success, but still, there are high chances of you leaving standing out by applying these strategies.
Here are the proven ways to tap into the power of YouTube for your retail brand to try to get the desired outcomes.
1.   Short 'how to' videos  
We often have experienced that people don't have enough time to watch lengthy videos on YouTube. Therefore, we must upload videos about our brand to introduce it to our target customers.
Short videos are easy to consume quickly, get the point across and amazing way of building brand awareness quickly.
People are always looking for videos to get answers on how to solve any of their problems on a daily basis. 
Here is a great example of a fashion retailer using 'How To Videos" to educate their customers, generate awareness and establish or maintain trust as a thought leader on their solution offering: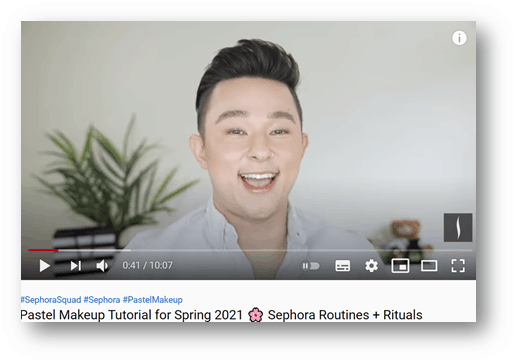 Source: Sephora YouTube Channel
Why this works is because is 10 mins long, it showcases a new product and how to use it and does it in a way that builds trust.
Short, sweet and engaging!
2.   Customize Your Retail Brand Channel:
Customizing takes work.  This is where your brand has to shine and showcase why it is unique given the noisy world.
Things to consider when looking to make your voice a unique one on YouTube are:
Showcase your latest product gallery
An engaging channel banner with your brand colours. 
Using your About section the right way
Creating a unique playlist
Uploading content frequently enough and develop playlists to inform and educate your customers about your brand
Check out Nordstorm's unique branding on its channel: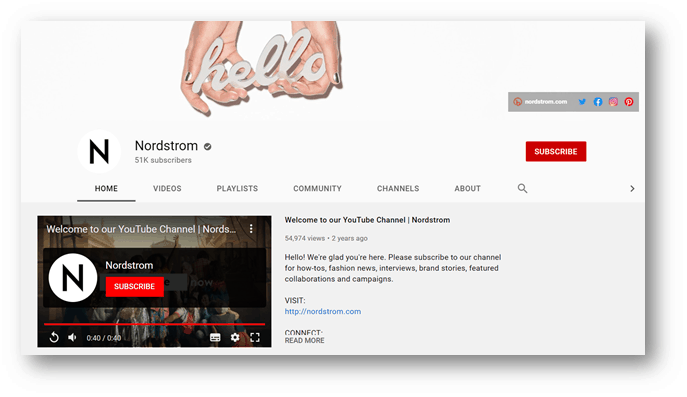 Everything from the main banner, to the home video, the playlist, the community section, the channels and the about sections are used to make an impact and distinguish itself from it peers in the market with this example
YouTube provides a lot of opportunities for brands to distinguish themselves.  Use the features to really make a statement.
3.   Genuine & High Quality Content Always Wins:
There is no escaping this.
To stand out, you must do what it takes to stand out – which is to produce engaging and unique content.
We are not saying that you re-invent anything. 
Whatever your solution is in retail, it has to be engaging and or entertaining. 
This means each video should be created with a goal in mind.
If we don't have good enough content on our YouTube channel about our brand, you will be disappointed with the outcome.
So it is important to start but to really make an impact, the brand channels have to be unique and consistently updated.
YouTube has the potential in exposing your brand in the digital world, so the production of good content on our brand channel is directly related to the growth of your retail brand. 
Some of the other content ideas that you can use for your retail brand are:
product close up shots,
your customers talking about the retail experience,
your e-commerce store,
your brand story and
people behind the brand (the founders, employees and etc.). 
The more human you can make your brand, the more values you will be able to showcase automatically in a video on YouTube with your brand.
Here is Swatch showing behind-the-scenes live session done for a setup that was captured on video.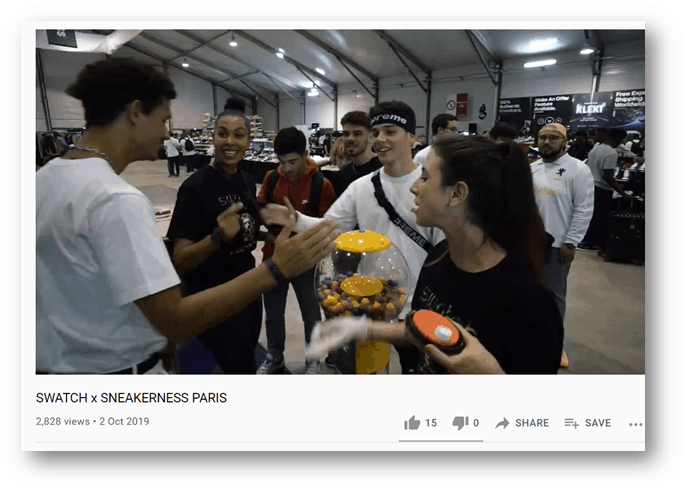 Source: Swatch Youtube
4.   SEO (search engine optimization) on YouTube
Leveraging YouTube for our retail brand will lose it's substance if we don't keep YouTube search engine optimization in mind.
As discussed earlier, YouTube is the second-largest search engine (yes search engine) in the world used by many people with a lot of stuff already available.
So, it should be more comfortable for our customers to find us on YouTube.
Let YouTube know what your content is about easily with the right keywords and SEO for YouTube. 
This will allow the platform to help your brand get discovered for keywords, content types and videos your customers are interested in.
5.   Use The Analytics To Iterate
YouTube provides great insights to review the performance of your videos.
Doing regular detailed analysis to understand what works for our brand is vital to help get the exposure for the products you are looking for.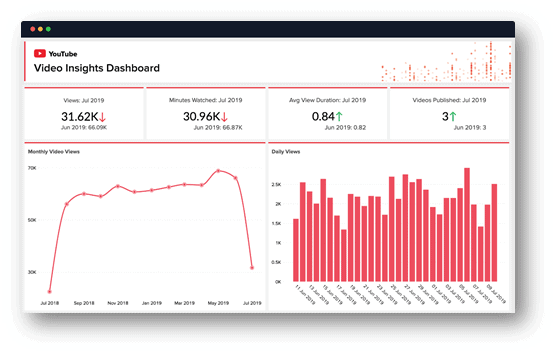 Image source: Zoho
Proper research will give us an idea of what steps we can take to grasp our customers' attention to indulge them with your brand.
6.   YouTube Ads:
Paid advertising is another thing in promoting videos on YouTube.
If we have a larger audience on our channel, then different advertising agencies can contact us to post their ad on our videos, and we will get paid for it.
Some options available for Youtube Ads include:
Skippable video ads (skippable after 5 seconds)
Non-skippable video ads (as the same suggested – you must watch before video is played)
Overlay ads (image or text can appear on the bottom of video)
Bumper ads (up to 6 seconds before a video can be viewed)
Did you know that to run YouTube ads, you have to go through the Google Ads platform? 
You can learn more about ads on the Google Ads Help page right here.
Here is a 30-second ad done in 2012 (yes almost a decade ago) that showcases the power video for branding: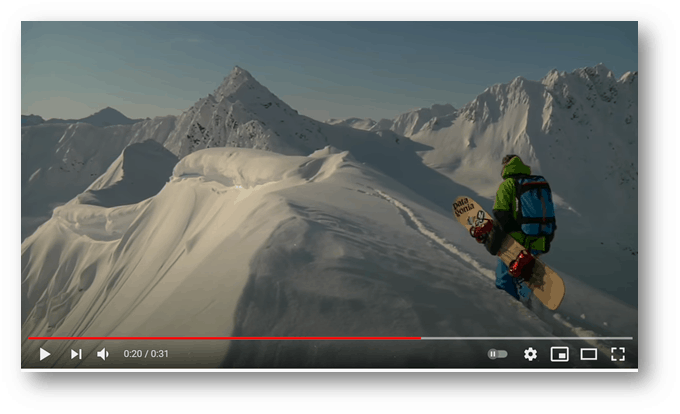 This ad was effective then, and can still do wonders in pulling the right emotional cords for brands in today's competitive environment.
Source: Death Cookie Entertainment
7.   Don't Only Talk About Yourself
This may seem obvious, but it important in today's social and very open world to not only talk about the brand, its products and merchandise.
Ultimately, it's a customer-first world.  Your customers are the heroes.
So showcase the success stories of your customers in action.  Let them talk about your brand in an authentic way, capture it on video and create a playlist.
Your retail brands help with a certain section of your target customers' lives.  Whether that is office productivity or weekend warrior – there are other ways you can engage on YouTube with your fans and customers. 

So if they are a weekend warrior and you sell running shoes, upload videos on post-workout snacks that show your customers you care about their well-being.
The same goes for an office equipment retailer, if you sell office furniture, then share office productivity tips videos that are a close association with your brand offering but not direct competition and still helps your customers.
This is how trust is built more than anything leveraging videos to connect.
Final Thoughts…
In today's world, if your retail brand is not on Youtube, then simply put, you are missing a world of opportunity.   
YouTube marketing will help us reach a much larger audience as compared to any other online platform.
At Web Worx Labs, we have helped partners create a YouTube strategy and gain exposure with our one-two marketing solutions.
We can help you create content for YouTube with our video production services and then help market it the right way with SEO and Google Ad campaigns.
It is the right one-two combination to not only create great brand assets but allow your retail brand to get the right exposure in front of your ideal customers.
Or better, talk to our experts over the phone right now by calling us directly at 1 833 932 9679.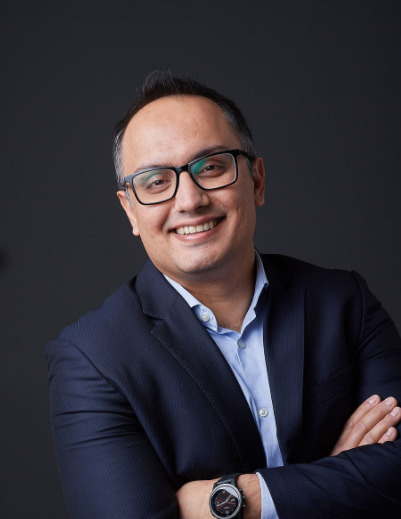 From a start-up helping local small businesses, over a span of 5 years, Usman has built Web Worx Labs to be a leading provider of digital marketing solutions that employs 15+ full-time employees and has customers in over 30 countries.
Outside of work and his passion for all things digital, Usman is a proud father of three, loves running and is an avid reader.
Follow Usman on LinkedIn or Twitter as he is always sharing tips on strategy, branding, marketing and analytics.