April 21, 2021
Taking A Deep Dive: Marketing Technical or Complex Engineering Brands (With Examples)
Taking A Deep Dive: Marketing Technical or Complex Engineering Brands (With Examples)
So you are wondering how to resonate with your prospects when your brand offers very technical or complex solutions?
Marketing strategies and approaches often differ across the board based on the nature of products and services or even industries.
To do marketing right requires careful observations, strategizing, and that is well through and planned with good research and expertise.
Technical, engineered or complex manufacturing products or solutions are especially different from a lot of other offerings in the world because they usually require a lot more education upfront, come with a high price tag and the actual implementation can take weeks if not months or years.
Customers always want to be sure that they are making the right decisions. The right combination of convincing marketing tactics and strategies should help consumers make well-informed, yet comfortable buying decisions.
Ultimately, the more informed and comfortable the customer, the better it is for your brand trust and loyalty and business growth over the long-term.
So in this blog, we dive deep into three strategies for marketing technical or complex engineering solutions.
Strategy 1: Market Your Solution With A Powerful Website That Engages & Educates
In this digital age and especially in this COVID-19 era, an enterprise should not be taking short-cuts when it comes to managing their online presence
Websites continue to reveal how useful they are in marketing several products and how effective they could be in sealing deals with customers.
You can use it as a way to add elements that enhance the customer experience for your prospects with your unique solutions.
A Website Should Be Robust
You must invest in a robust website if your business motive is to sell technical and complex product solutions. Robustness in this case does not represent how big your website is or how much you have spent on designing or developing one.
From a sales and marketing point of view, some of the things you have to perfect to keep your website robust as much as possible are to ensure simple and minimalist designs as well as web optimization for mobile.
The truth is that over 90% of daily internet users have access to the internet with their mobile devices. That is a very high penetration. People will access your website via mobile and if the experience is poor, you are telling your customers to bounce from your site and look for alternatives.
The Website Should Communicate Outcomes
Aside from perhaps a gallery of your technical products and other information about yourself, focus on the customer.
Customers are always curious to know how products work and what your customer will be able to achieve after they are using your products.
There is storytelling that has to be done the right way on websites.
You need to highlight your customers' pain points, the solution in action (perhaps with a quick video), and then your happy customer state.
Having a well-documented FAQ section for your business on your website could solve the challenge when the emphasis is on the outcomes that your customer derive when using your solution.
Focus On Benefits In The Homepage
(& Features In the Subpages)
Sometimes buyers need assurance on why they should buy from your website. Whatever tactics you use, kindly have it at the back of your mind that the motive and purpose of doing this is to build trust with your brand when visiting your website to bring them down to the commercial intent or purchase phase of the buyer's journey.
Having the above 3 goals when using your website as a selling tool will prove useful for complex product offerings or solutions.
There is a lot science and art behind creating a good website. Do not take shortcuts for your number 24/7 online selling tool (your website) and invest in a good design, good experience that focuses on your customers. Your prospects and existing customers will thank you!
Strategy 2: Educate Customers With Content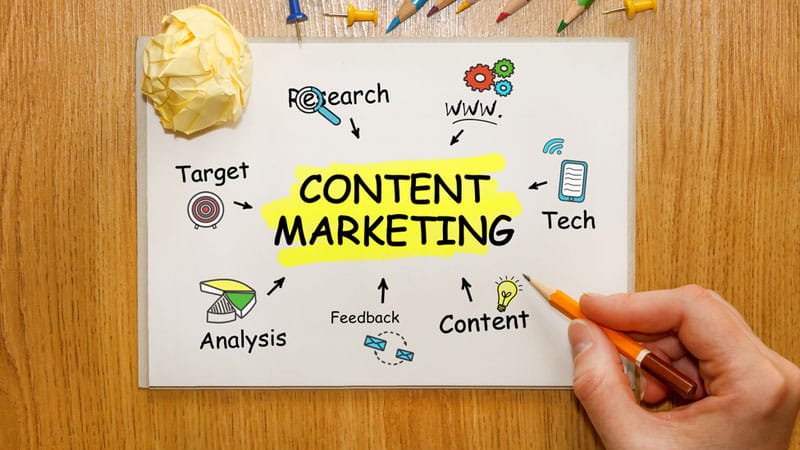 Content can be anything and be provided in pretty much any format today; it can be text-based to images, videos, or even audio files.
Content can be created on your website or other platforms associated directly and indirectly with your business.
You are selling complex solutions and they are not easily understandable.
Should you invest in a content marketing machine that educates your customers about your offering, your values, and builds trust over time?
From our perspective: ABSOLUTELY!
Creating content about your technical products on your website is serving two important functions.
First, it is a way to develop an elaborate SEO structure for your website so it will be ranked highly on the search engine results page – which is important for discoverability.
Secondly and more importantly, you are providing your customers (potential or returning) with useful and valuable details as well as information about your values, sharing interest, solutions to the pain points, and increasing brand awareness at the same time.
Build brand awareness by showcasing your product solutions subtly, providing content that matches the values of your target customers will all help bring the right people to your sales pipeline over the long-term.
You will be building trust and assurance that you have good enough knowledge of your products when you share with them content around your customers' value and your offerings.
Again, your company is not only associated with a specific product or service. It is committed to delivering a solution (perhaps a complex one) for your customers in the best and most feasible way possible. If you showcase that you are more interested in solving not only the problems of your customers with your solutions (in a friendly yet passionate way), but also provide other tools, tips or support that will help them succeed in their lives – you win them over with content.
Case in point – see two examples below – why Oracle & Idium (both complex solution providers) maintain a vibrant blog strategy?
Example 1: Idium Blog Page
Image Source: Idium.com/blog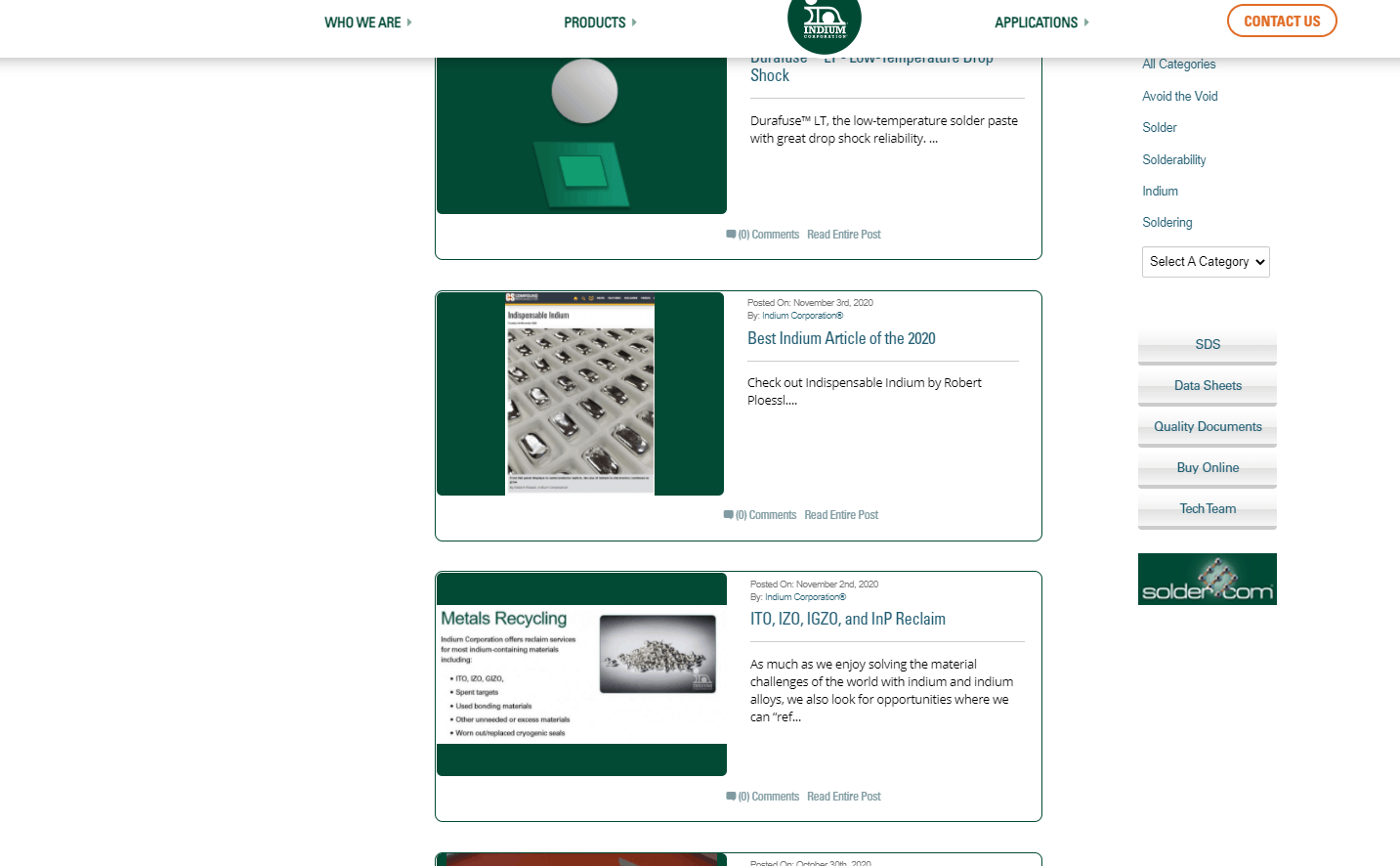 Example 2: Oracle Blog Page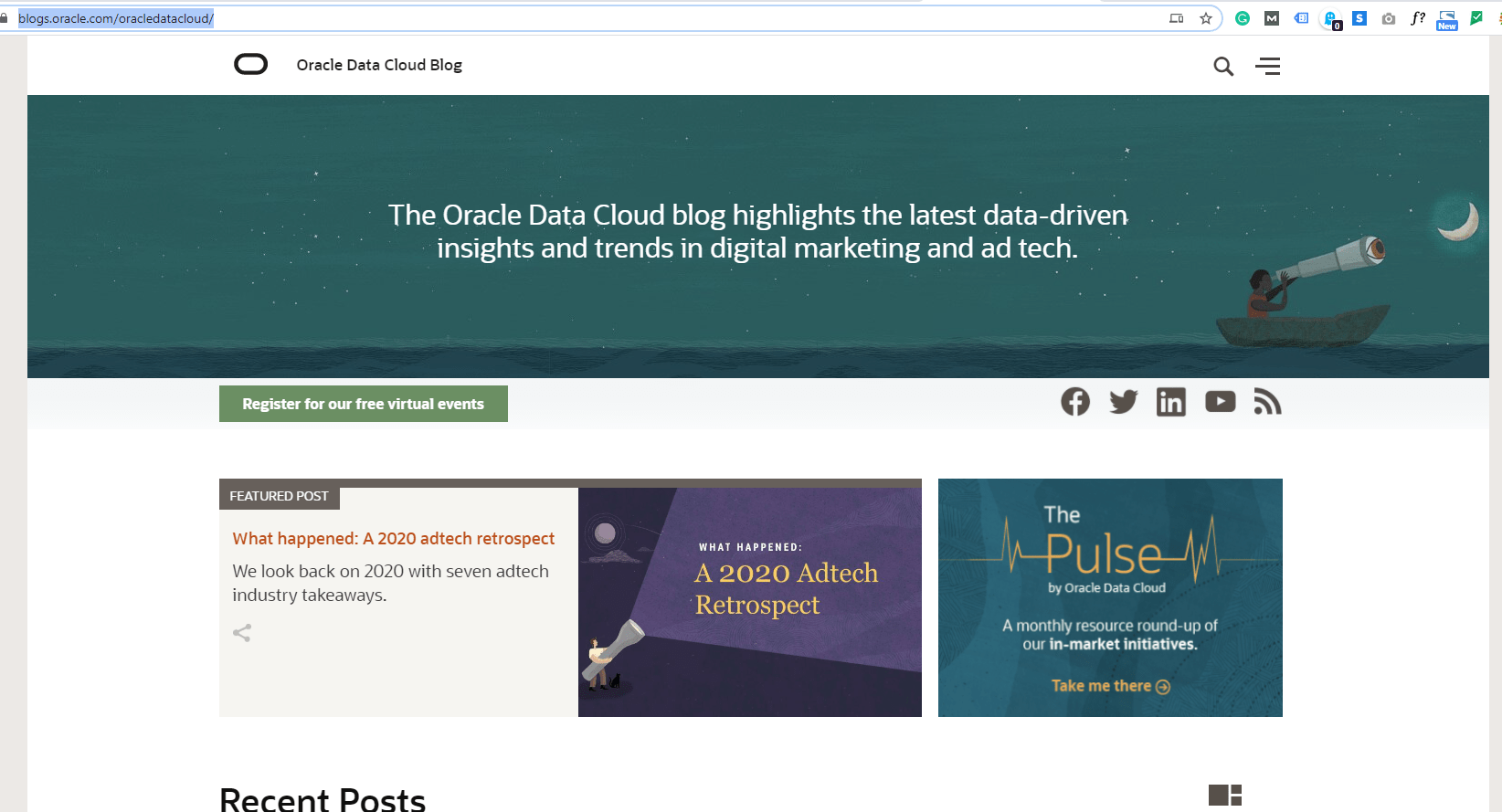 Image Source: Oracle Data Cloud Blog
Because they understand that their prospects who will buy from them are engineers. So the blogs are very technical but useful that will resonate with that type of audience. Investing in blogging allows the sales team to use content to showcase expertise, specific scenarios where the solutions are applied, and more!
Building trust can be quantified with content marketing. There are ways that you can track visitor behaviour with analytics that tells you how many times a user has visited your website, or if they have provided their email or contact information.
Once they enter your tracking cycle, you can review their behaviour, and if they have provided their contact details, then there are steps you can take to take them from marketing to sales over time.
A great read by an industry leader on this topic (SalesForce) on Marketing Qualified Leads (MQL) to Sales Qualified Leads (SQL) can be read here.
All this can be automated when they visit your content pages on your site.
There are many ways and content types you can use to educate your existing customers and prospects.
Blogs, pillar pages, events, conferences, videos, and webinars are some examples of many content formats that can be used to describe your solutions in an engaging and bite-sized format.
White papers are especially powerful for technical and complex engineering products.
They take more resources to accomplish and do right – but your sales team will thank you over the years as they use them to showcase the success your existing customers have had in detail that your prospects would love to hear about!
Helping close sales with content that attracts, builds relationships, and helps in closing is what good content marketing is about.
Blogs and Whitepapers
Blogs are written pieces of content that are relevant to your values, target customer interest, packed with actional tips, your products and services solutions, features, and use cases.
While blogs could be unofficial and conversational style documents offering maximum flexibility to your writers (inhouse or outsourced), and written to discuss important subjects with your audience the goal is always to provide enough details to showcase your thought leadership, impart value to the readers and look to build a relationship with regular updates that your customers find useful.
A white paper is on the other hand is a much better designed and detailed document (usually a PDF) provided by the company to promote or highlight the features as well as the problems addressed and solved by your products.
This piece or type of content should not be easily accessible unless someone is willing to share their company details, email, or contact information.
The beauty of embedding whitepaper offers within your blog is that it is the next step in building trust and qualifying casual visitors from more commercial intent buyers.
It is also a good one-two combination where you bring people in with a blog, and ask them to share their contact or company info with a whitepaper.
Again, whitepapers are gated pieces of content that should only be provided if the visitor is willing to part away with the name and contact details.
This process of creating gated vs. non-gated content and capturing this initial prospect info is vital to really leverage content marketing to keep your sales pipeline full, qualify leads, and grow your business.
Once you have the info of more serious visitors from casual browsers (or even your competition 😊), there should be a mechanism in place to follow up with a drip campaign (that can be automated). This helps qualify the leads even more as it filters out less serious buyers or prospects from serious ones.
Sales team should be notified of the lead quality and should reach out them these prospects based on the success criteria you define in your pipeline process.
Common events that help you qualify visitors include:
Explored the website for more than 3 minutes
Visited the About Us Page
At least visited the website 3 times
Subscribed To Blog
Reads blogs regularly
These are some of the simple criteria that you can define when using some of the tools we shared in our other blog.
Including a good call to action near the middle or bottom of the blog with a nice designed white paper that calls its features will be the stepping stone to help transition your readers to the next stage in their buyer's journey.
Pillar pages
If you prefer to reach out to your audience and customers via content on your websites or blog, then you might need a pillar page to make this adventure effective enough as a marketing strategy.
Pillar page refers to a web page that covers the overall topics on your website in-depth.
In-depth is the focus here. The length of these whitepapers, the design does require a ton of research.
Just like whitepapers, these types of content require great thought and resources to put together, but provide a ton of benefits that have allowed many companies to showcase thought leadership.
It also possesses lots of link to related content in and outside your website.
There are techniques to creating quality pillar pages that will drive your marketing objectives. There are;
Choosing your core topic
Outlining relevant subtopics
Research, write, edit, format, and organize pillar page
Share, market off-page, and promote
Keeping your pillar pages up to date with relevant information to ensure they rank and continue to provide more up to date information on your pillar page topic.
The good thing about a pillar page is that it can help your readers judge you as someone who is committed to a particular cause.
Your job as a complex solution provider is to match your pillar page with topics that are of deep interest to your target audience to ensure you make the most out of this content investment.
Here is an example of a great pillar page by Cloud Elements:

Image Source: Pillar Page For API Integration By Cloud Elements
Definitive guides, very detailed blogs, best practices with a ton of examples are all great examples of pillar pages.
Think great user experience, comprehensive, subtopics and problem solving when it comes to pillar pages.
They are usually lengthy pieces of content that allow for lots of call to actions to allow businesses to capture email while providing expert advice, research and thought leadership on the subject matter.
Webinars, Events, Workshops & Conferences
Audio and video content can also be shared to educate your business audience, but majorly in form of seminars, webinars, and conferences.
All three are proven sales drivers in their own respects. However, with the recent rise in the numbers of video and audio conferencing software following the 2020 pandemic, you can easily host events, webinars, and conferences online on subject matters relating to your brand, product, and business.
You will be building trust, earning more exposure, and creating more
More importantly, people who show up for your solutions related webinar are likely your target audience.
So you getting a chance to showcase your product in a webinar or in a live conference is ideal. It is almost as asking for that initial sales meeting or discovery session!
Here are examples of workshops, webinars, and online educational content and training done by a complex manufacturing brand to educate, build trust and grow their business.
Example 1: MSA Safety Company Does A Safety Training Workshop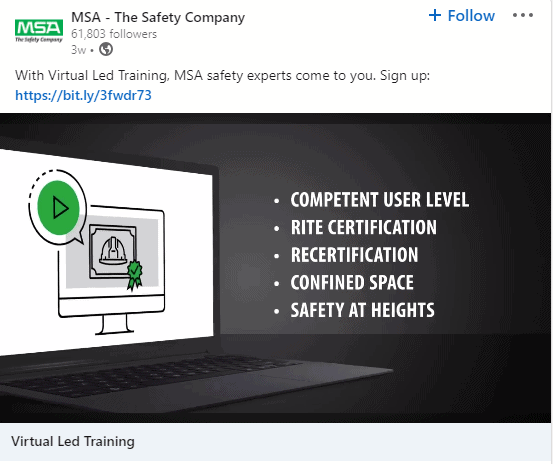 Image Source: MSA Safety Company Online Training & Videos
Another example of an engineer presenting solutions in a webinar format is for 3D System that produces a ton of webinars and workshops and saves them on their websites.
Here is an a quick peek at their webinar gallery right on their website here: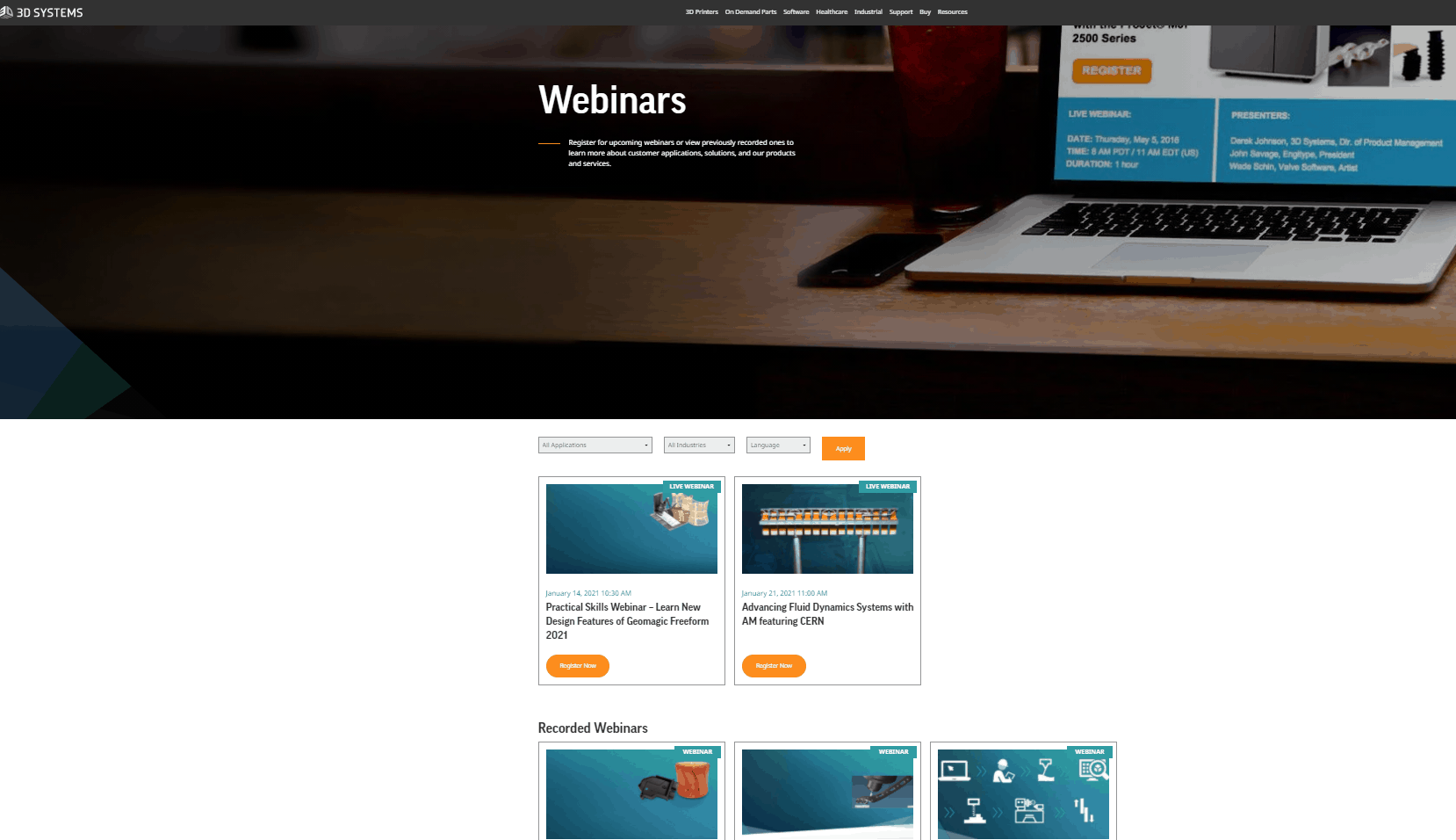 Image: 3DSystems Webinar Page
The above examples showcase that brands invest in educating their prospects and customers about their company values (everything related to safety in MSA's case and a ton of knowledge sharing for 3DSystems for 3D Printing, Materials, Software, Manufacturing and more).
Strategy 3: Social Media
So let's talk about the platforms of fun; social media.
A lot of customers would love to hear about your products and what problems they solve.
Bringing in fun, humour or social elements to your brand offering can open up new ways to grow your awareness.
Why not make marketing fun by infusing some forms of amusement and simplicity into it?
Social media marketing has increased in popularity.
However, marketing on this platforms are not expected to be bland and lacking in content because most of these spaces are primarily designed for people in their 'offtime'.
If you focus on too many technical details in your message in your content, then you may not be able to achieve the outcome you are looking for.
In fact, according to Marketing Land, the average view time on Facebook is only 10 seconds.
People are constantly bombarded with ads while scrolling and have learned to tune them out.
If you are creating content for your complex solutions – focus on powerful ways to grab their attention in the limited time you have with them.
Investing in powerful stats, beautiful photography about your products, or catchy videos is the way to go when creating content for social media.
Related: Learn about how we help brands stand out in social media here.
Relate: Learn about our case successful case studies here.
Here are a couple of examples of social media done right for complex industries:
Social Media Example 1: Midas Safety Shows Their Commitment To A Sustainable World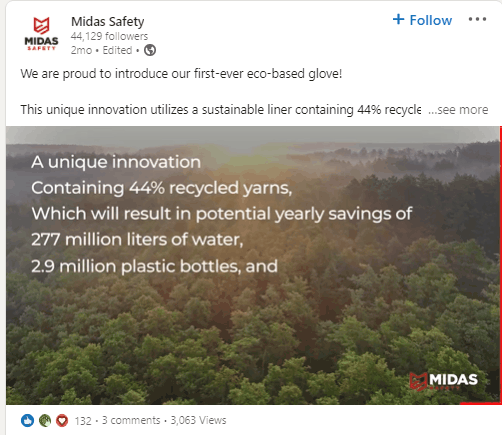 Image Source: Midas Safety LinkedIn
Full Disclosure: Midas Safety is our long-time customer and we do design and LinkedIn marketing for them 😊.
Social Media Example 2: Plant optimization post at The Goodyear Tire & Rubber Company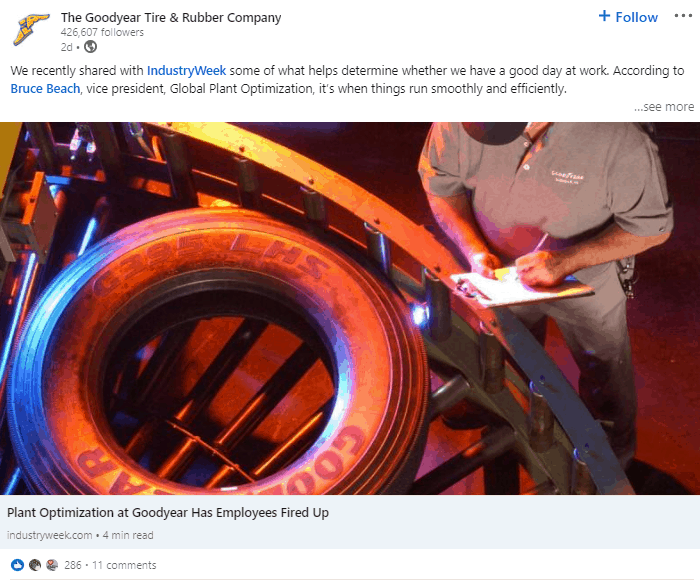 Image Source: Goodyear LinkedIn
Showcase Behind-The-Scene Videos
Another type of content that has tons of appreciation on social media is behind the scenes videos.
As I have previously mentioned, product marketing may become really boring to your audience when they appear too serious or too technical when they are looking to offload and relax after work.
Focus on outcomes and showcase the product or solution in action or being prepared with videos is a powerful way to bring a spotlight to your expertise.
One of the ways to make marketing appear less serious and yet pass the technical information of your objective is shooting and uploading behind the scene videos of product events and uploading them on your social media spaces. Behind the scenes videos showcase your brand as being transparent and honest and nothing builds trust quickly than transparency.
You build trust with prospects and loyalty with your existing customers with this format of content.
For a second just imagine the delight and joy that fills your heart each time you see behind the scene part of videos and bloopers of movies.
Here is an example of Ansell doing behind the scene videos: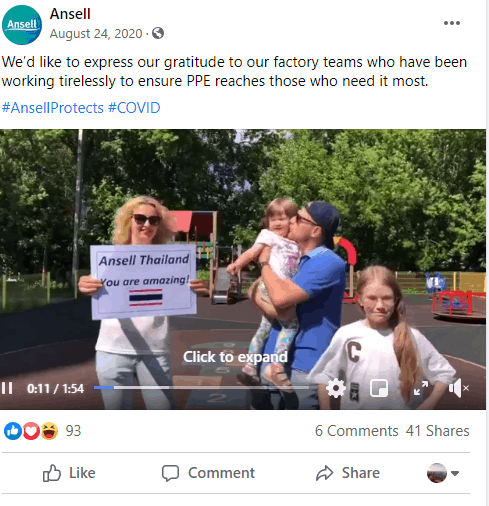 Image Source: Ansell Social Media Post August 24, 2020
Funny right? Even the thumbnail is engaging and entices you to click and watch.
And the best part, it uses employees from Ansell so they have an incentive to showcase their video to their friends and family.
This creates a viral effect if done frequently enough as it taps into the power of the network.
93 likes and 41 shares from employees who want to spread Ansell's good core values to others.
And yet it creates that the right feeling that you want your customers, fans, and prospects to associate your brand with.
Your customers will feel more attached to you with simple behind the scene videos of products, team members, or leadership team.
Whether it's b-roll or simple videos that capture your production, assembly, packaging, distribution, or even delivery processes.
Every detail matters. Make it count!
Produce & Share Photography
People tend to remember more the things that are presented to them in images than a series of texts and or simple copy.
People also buy from people, not machines or companies.
This is why making stellar and attractive product designs and photographs will help your customers remember your products easily and quickly.
I am sure that right now you are recalling memories of products that stick in your head only because of the unique images or video presentations you have seen of them.
How powerful are these two galleries for highly technical and engineering-oriented brands?
Example 1: General Electric's Instagram: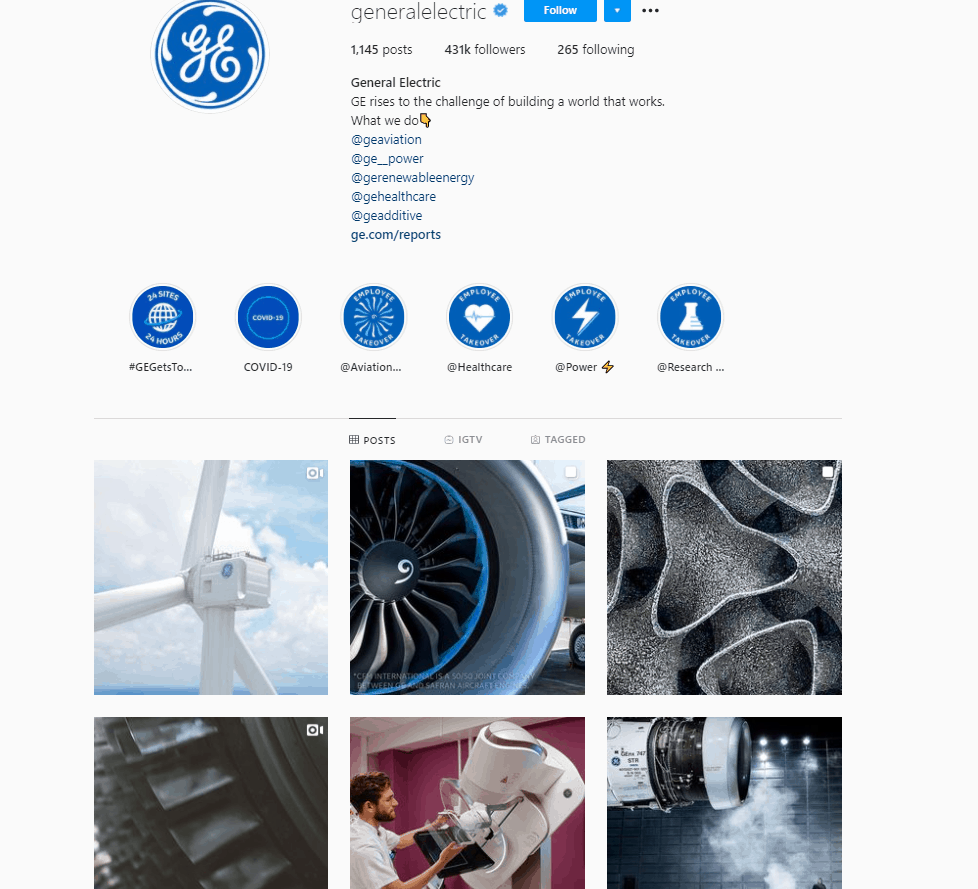 Image Source: GE's Instagram Account.
Example 2: Honeywell's Instagram does it right as well: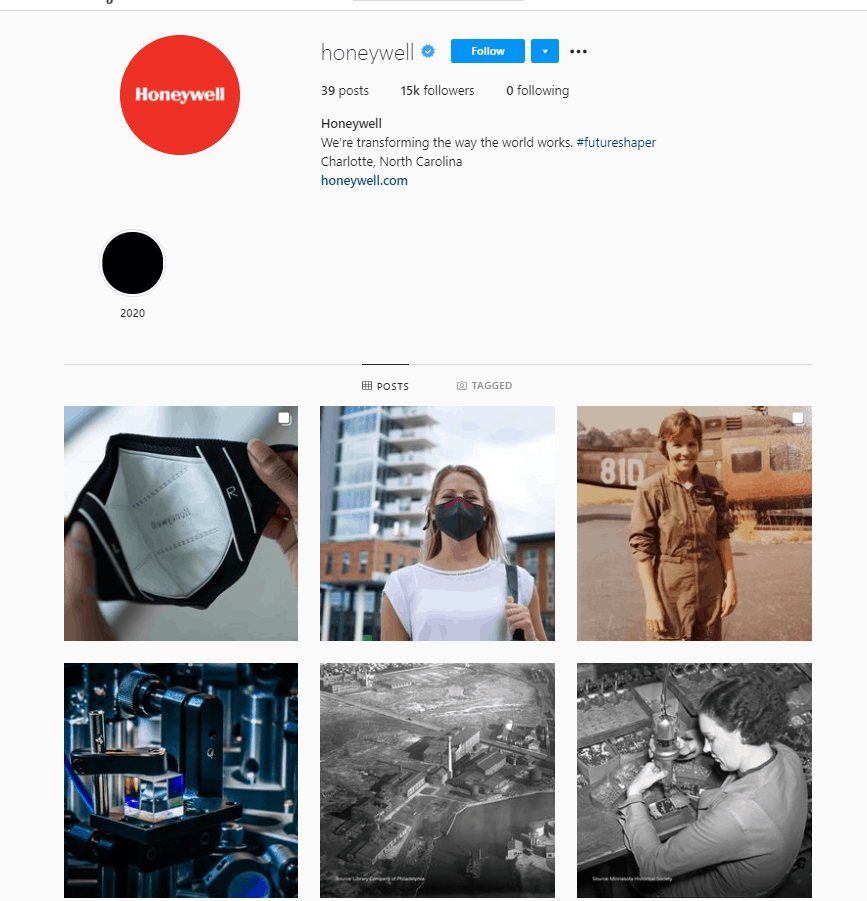 Image Source: Honeywell's Instagram Gallery
Humanizing your brand on social media with employee updates such as the ones above are a great way to showcase the right company values:
Sharing employees promotions and development stories as touching your brands and products
Showcasing and praising researchers' milestones
Releasing updates on expected big-name recruits and recruits that are expected to add values to your brand and your customers business
Intimating your audiences with strides and achievements accomplished by employees to help push your brands and product forward
Doing these, you are preaching messages of quality as well, as product development to your customers.
Your customers will be able to see all the good people who help in serving them.
If you can showcase the great work that your team puts into servicing their customers, then you make it easy for your customers to better understand your company's values and culture.
That's transparency.
And transparency means your willingness to be vulnerable.
Being open about your vulnerabilities the right way makes you confident.
And that is how the pride and power of such posts helps build great brands.
Let's Recap
There are a lot of ways that technical and complex engineering-based brands can grow your top line.
We only touched on three of them today; a solid website that focuses on outcomes, a powerful content marketing strategy with 3 must-have types of content, and leveraging the power of social the right way.
If you need more help in implementing the above strategies, reach out and we would happily talk through how and where can help.
Do you have any more questions or comments on the above topics? Feel free to contact us or comment below.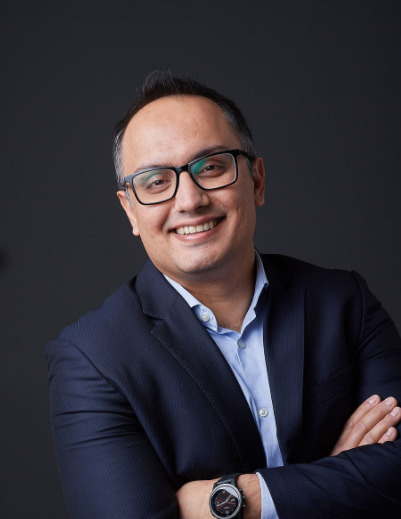 From a start-up helping local small businesses, over a span of 5 years, Usman has built Web Worx Labs to be a leading provider of digital marketing solutions that employs 15+ full-time employees and has customers in over 30 countries.
Outside of work and his passion for all things digital, Usman is a proud father of three, loves running and is an avid reader.
Follow Usman on LinkedIn or Twitter as he is always sharing tips on strategy, branding, marketing and analytics.