July 07, 2021
5 Must-Have Attributes For A Killer Social Media Post
5 Must-Have Attributes For A Killer Social Media Post
Social media has an immense impact on businesses. It has revolutionized how we interact and carry out our day-to-day lives.
Social media is powerful, it's everywhere, and it's unavoidable. 
Whether you're an established brand or a startup, social media plays a vital role in your marketing. That's why having the fundamentals right for a post on social media platforms is imperative.
There are more than 3 billion people who use social media. This means you can reach a wide base of consumers on your social media platforms using well-curated posts.
And for your business to benefit, you need to invest a lot of money, time, and effort. A great post on various platforms will tell about your brand and personality.
So, what will a good post do to your business?
Benefits of a Perfect Social Media Post for Your Business
·      Higher SERP Rankings
Posting more on social media platforms will earn you a following and make you trend. And remember, your post should be relevant, enticing, and engaging.
Let the target customers, existing customers, vendors, and other business stakeholders get hooked and stay connected with your brand.
Besides, trending on social media will have an impact on Search Engine Result Page rankings. This is how you can build positive impressions, stand out and get more engagement.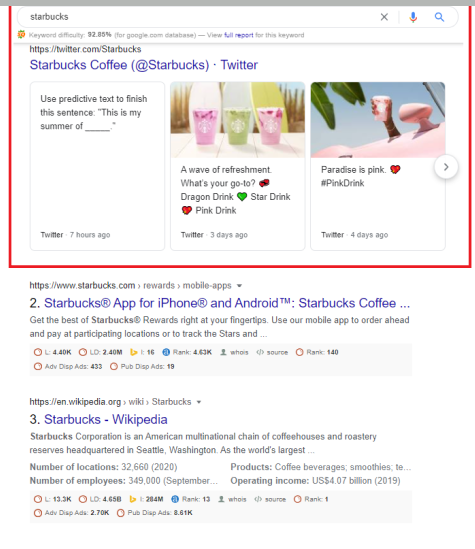 Image: Google Search Results showing for Starbucks With Their Social Media before organic listings
·      Increased Brand Visibility and Awareness
When you post on social media, your target audience and customers see more of your brand and enhance your brand awareness.
And the best part is that it's a cost-effective and effective marketing strategy.
·      Build Brand Loyalty
This is a powerful marketing component, but it can be challenging to attain. It can be an overwhelming task, considering the stiff competition. It will take a lot of time to achieve the desired results.
But it's not impossible. Well-curated social media posts can speed up the process. The brand loyalists will boost sales as well as promoting your brand on various social media feeds.
·      Build Goodwill and Credibility
Great posting gives your customer a better understating f your rand and how you function. Customers have a chance to scrutinize your brand and determine if your business culture and practices resonate with our vision, motto, and mission.
Potential clients want to get associated with a reliable brand that operates ethically. Posting on social media platforms helps you reach out to customers and show them the kind of a brand you are.
These are but a few benefits that you can leap by posting on the social media platform.
But what will make customers get hooked to your posts? How should a post look like?
These below tips give you a good outline of designing and publishing a social media post that is sure to create new levels of engagement – so read on!
The Must-Have Anatomy of a Social Media Post Design
We dissected and analyzed hundreds of social posts. We also searched high and low, from fan page to fan page, and industry to industry, for the mystic to viral post. The truth is, creating a viral social media post can be seamless if you know what's needed.
Let's examine the anatomy of a perfect social media post.
1.  Headline
The headline is the first and perhaps the last impression you give to your customers. Many people neglect this segment, but it should be your priority in content creation. A poorly written H1 tag can drive the audience away in droves, rendering your work useless.
If the headline does not sell your story, then your social media posts will go unread.
What a waste!
That's why investing in a good headline is imperative. It captures the topic of your post and helps in SERP rankings.
A catchy headline boosts your CTR and starts interaction with readers on a positive note.
So what makes an impeccable headline that people click?
Make it short and sweet – The headline should be short but catchy. The ideal length is 6 words or 66 characters. People have short attention spans. Therefore, be creative but informative.
Make it Conversational – Readers what to feel engaged. The post should talk to them. Create a real-like conversation by including "you" and "your" in the headline.
Negative Wordings– Don't get it wrong! It's not about being harsh. You only use simple words such as "stop," "not," "without," and "no.". These words create more sharing.
Use Numbers – Including numbers make people have a notion that steps are easy to follow. And use digits instead of words to enhance sharing. For instance, "7" instead of "seven."
Make Use of Adjectives – Adjectives make the headline catchy and engage readers more than flat, mundane language. Make use of words like essential, absolute, effortless, painstaking, strange, to mention a few.
1.   Images
"A picture is worth 1,000 words."
The saying still rings true!
Photography helps you get more engagement than text-based updates, or links.
Videos get even more engagement.  So if you can make your static photogenic post into a video – we highly recommend it.
But having a great photograph to tell your story within minimal graphics is a must have.
Here is an example of a simple, but crips photograph with minimal branding telling a story: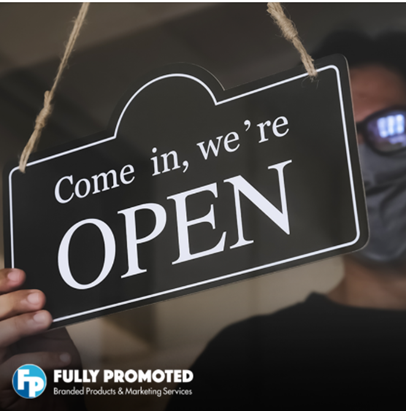 Image Source: Fully Promoted Canada – A Partner we helped with Social Media
How simple and powerful is the above design?  It tells a story, people look at it and are quickly able to understand and relate to the message.
According to MDG data, images on Facebook get 352% more engagements than links.  The 2018 Adobe survey shows that 16% of users find it annoying when a post or content has no image.   
Humans are naturally wired to value images. Users will only remember 10% of the information, but a picture improves recall to a whopping 65%.
Consumers think favorably of a post that emphasizes on photos over text.
As mentioned, good photography placement and choices can do the heavy lifting and tell a story in a relatively little space.
You might not be able to get all the pictures and images in-house. However,  put some effort into making your post imagery and appealing. Some sites such as Unsplash, Pexels, and Flickr are the best for image search.
Alternatively, if you need professional photography services – do check out our Photography solutions for brands.
Use different photos to fit the mood of the day. It will make your content outstand from other posts. Use crystal clear photos with bright and alluring colors.
Related: Corporate Photography Services at Web Worx Labs
Related: Social Media Marketing Services at Web Worx Labs
2.  Caption
A caption is a copy or text-based content of the designed post you will be publishing on your social media handles.  Different social platforms allow for different character limits, but our suggestion is to keep it short and sweet – just like the headline.
Ultimately, you can always have a simple caption-based post without the design, photography or videography, or other types of posts, but we find these to be limiting in engagement for most brands.  The one platform they are likely to get the most reach and engagement is Twitter given its character limit and its origins of sharing opinions or thoughts based on simple text-based posts.
Brands that have used copy-based or simple captions to create engaging post include Netflix, McDonald's, and Dennys.
Here is a simple but effective post that got a decent amount of engagement on social for the Denny's brand on Twitter:

Simple, but powerful posts create lasting impressions.  This post got 901 likes because it is funny and relatable!
The caption should capture the mood or the sentiment of the times, the message it needs to convey, and provide a call to action to help the customer go to their next step in their journey.  The next step can be to ask for a like, answer a question, go to a link or anything in between.
We found Sunkist social media captions truly engaging and worth checking out if you are looking for inspiration for your content calendar on social media.  We find the social content writing team at Sunkist truly hilarious, catchy and engaging.  See example below: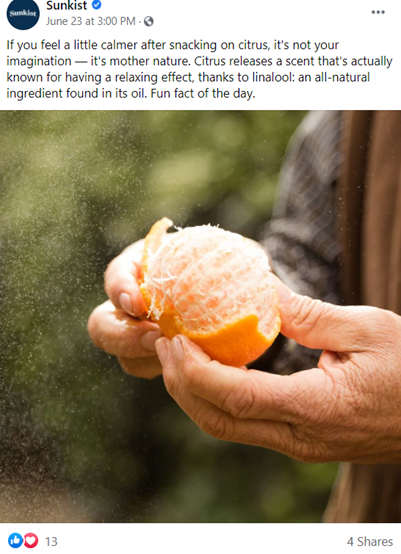 Image Source: Sunkist Facebook
3.   Hashtags
Hashtags are an effective way to boost the reach of your posts. But don't add too many hashtags, as they'll make your content look spammy. It can also make engagement drastically drop.
A hashtag expands your reach on the social media platform beyond those who follow you.
Hashtags on Twitter will likely double your engagements. However, limit them to 2 because anything beyond that will lead to a drop of 17% in engagement.
A great resource we use to quickly get trending hashtags related to a topic is BestHashtags.com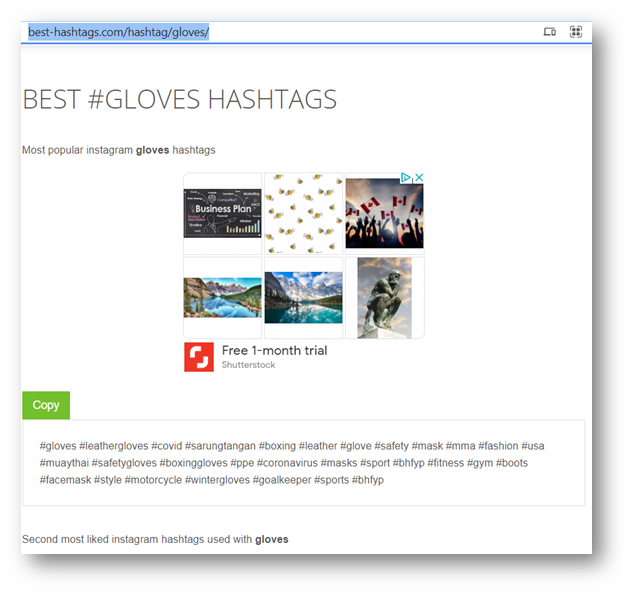 Image Source: A Query on "Gloves on the website: Best Hashtags
Hashtags don't seem to work great on Facebook. Therefore, use them sparingly on this social media platform. And when you use them, ensure they're not more than two per post.
Unlike Twitter and Facebook, you don't need to limit yourself with hashtagging on Instagram. in fact, Instagram interactions increase with the increase of hashtags.
4.   Timing
You took your time to craft a catchy post with the right hashtag, and now it's time to post. If you don't want your work to go down the drain, ensure you get the right timing.
The time factor is an important algorithm. It decides what content ends up on a reader's news feed. Older posts are less likely to be seen.
Different social media platforms have different timing.
Authenticity is essential to have good engagement with the Facebook algorithm. This means you must know when to reach your readers. Thursday and Friday are typically the best days to post on Facebook.
On these two days, people are less likely to want to be at work, so they spend more time on Facebook. And the best time to post content is early afternoon. The worst days to post on Facebook are Saturdays and Sundays.
Instagram is the second best platform after Facebook. It has about 1 billion people, and it's a platform for a younger generation. The most consistent engagement happens from Monday through Friday.
9 a.m. to around 4 p.m. are the peak hours on Instagram, while engagements become lower after 9 p.m. and before 6 a.m.
The visual-first nature of Instagram has proven to be an effective fit for selling products and services.
Closing Thoughts
Undoubtedly, social media is a vital marketing tool. It has a wide customer base, easy to use, and effective. But its efficiency will solely depend on the kind of posts you make. Once you understand the anatomy of clicky social media posts, it becomes seamless to replicate success.
Unleash your creativity, get your timing right, craft perfect imagery, and research on hashtags. You'll soon see the increased engagement that your brand deserves!
Thoughts? Comments or Questions. Reach out below or email us at info@webworxlabs.com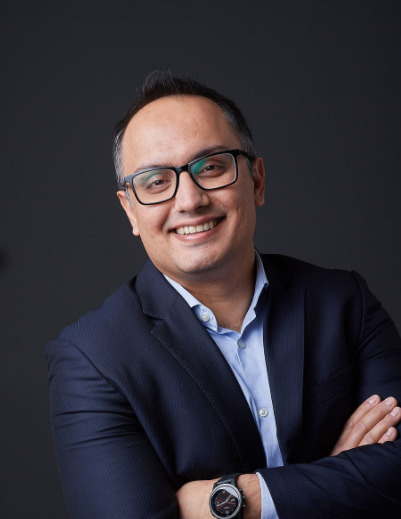 From a start-up helping local small businesses, over a span of 5 years, Usman has built Web Worx Labs to be a leading provider of digital marketing solutions that employs 15+ full-time employees and has customers in over 30 countries.
Outside of work and his passion for all things digital, Usman is a proud father of three, loves running and is an avid reader.
Follow Usman on LinkedIn or Twitter as he is always sharing tips on strategy, branding, marketing and analytics.