August 04, 2021
TikTok Marketing: Why Should Marketers Care About TikTok?
TikTok Marketing: Why Should Marketers Care About TikTok?
If you are looking for guidance on TikTok marketing and want to understand your options and approach, you have come to the right place! If you aren't already aware, TikTok is a trendy new social media application launched internationally by a Chinese tech company in September 2016.
This app has since then gained popularity in the western markets as a convenient and content-driven application with videos ranging from politics to education to live streaming. But should marketers and business leaders pay as much attention to this app as most other people?
The answer is definitely 'Yes'. Here's why:
The Growing Numbers and Statistics
People now spend more time on TikTok than on YouTube and the trend is increasing!  We are hovering around 1.1 Billion users on TikTok!
With the app being the most down at around 33 million (as of Q2 2021) in the apple store.
The growing number of users coupled with low advertising costs makes TikTok a lucrative marketing and branding channel for business leaders and brand owners. Not only do marketers have the opportunity to showcase their services, products, and brands to a sizable audience, they also have to pay less per advertising campaign as compared to most other mainstream social media apps like Instagram, Facebook among others.
Besides, the age group people think is predominately younger is also growing for the older demographic.  That means, more older people are becoming more comfortable with the platform so getting in now will allow you to cement your foundational following that can be built upon as the younger demographic naturally ages over time and the older demographic catches up.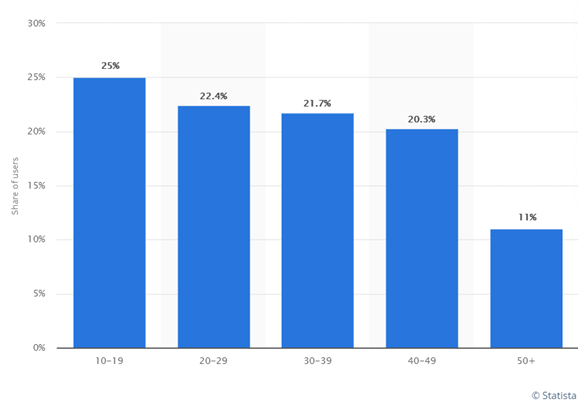 Image Souce: Statista (US Only Numbers as of March 2021)
 Connect Directly with Content Creators:
TikTok facilitates a unique way for brands to create and share their advertising campaigns either by using TikTok's own advertising tools or by connecting them directly to content creators.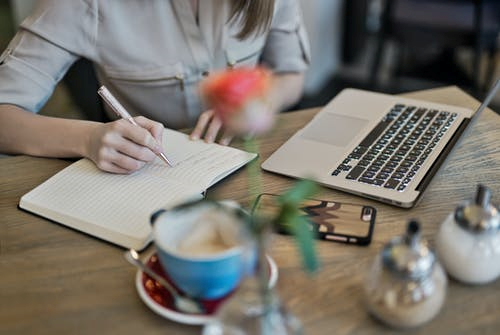 Marketers can filter out influencers based on whether their style matches the brand's face and target audience (based on age, gender and geo-location). They can also check the content creator's previous brand deals and how well it did on the platform.
If marketers want to generate brand awareness then they can focus on influencers with a large audience while if they want to produce sales they can sponsor a niche content creator who is more aligned to a target demographic.
Advertise and Promote your brands/products/content on TikTok:
Since most brand owners and marketers want visibility from social media, TikTok is an excellent marketing platform as its content lives on your feed forever which can be used to bait people from wanting more from you and eventually persuade them to your YouTube channel.
Here is an example of Mercedes Benz using TikTok Ads to create engaging content that builds lasting impressions: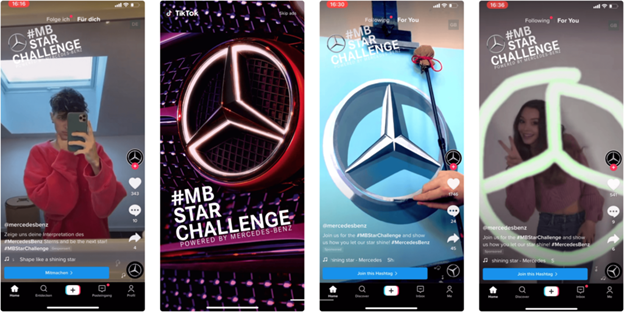 Image Source: Jungletop
Marketers can collaborate with other brands to promote each other's products and services. Co-branding partnerships have proven to allow marketers to transform their brand's overall image as well as alter the volume of traffic altogether.
Some very popular and successful collaborations include GoPro and Red Bull, Spotify and Starbucks, and Nike and Apple among various others. If you are looking to check out good examples of TikTok marketing brand channels for inspiration – these are good places to start! Companies or single brands can find brand takeover advertisements to be particularly helpful in promoting their products and services wherein pictures, videos and other forms of media can be used to direct users to the brand's website link.
Some types of ad formats that can work on TikTok that marketers should consider include:
In-app commerce (for those that sell online)
In-video ads
Branded takeover (branded content comes up as soon as they open the app)
Sponsored Hashtags
There are a ton of advertising possibilities and I am sure more will be rolled out as this platform becomes more mainstream.
Related: Pay Per Click Management Services
Related: Social Media Marketing Services
Showcase original content to stand out and connect organically:
Among various successful marketing techniques, the Hashtag challenge has proven to be very useful for brand owners and companies in showcasing their brand's outlook. These challenges spread the brand's cause effectively and henceforth gather new audiences. They also allow business leaders to have organic engagements with content creators and viral bloggers who have a far greater outreach and can achieve the desired results.
Marketers can resort to more spontaneous behind-the-scenes which can give their audience a better look at the brand's voice and personality. Embracing viral trends has proven particularly helpful for most marketers in promoting their brand on TikTok. 
Post or content characteristics that have worked well on this platform include:
Authentic (behind the scenes, faces behind the name, etc.)
Creativity (anything clever or good filmmaking will stand out and gain natural organic reach given the volume that is uploaded daily)
Entertainment (that is the currency on TikTok, if you can keep them entertained, you have built a lasting impression that can truly build on).
Wrapping Up
All in all, we can thank TikTok's deeply responsive algorithm in detecting a user's behaviour and pattern. Hopefully, this small guide will help you with getting your TikTok marketing started. This platform can be extremely advantageous for numerous brand owners in promoting their company's profile and personality!
Reach out if you need help at info@webworxlabs.com, comment below or get in touch via our contact us page.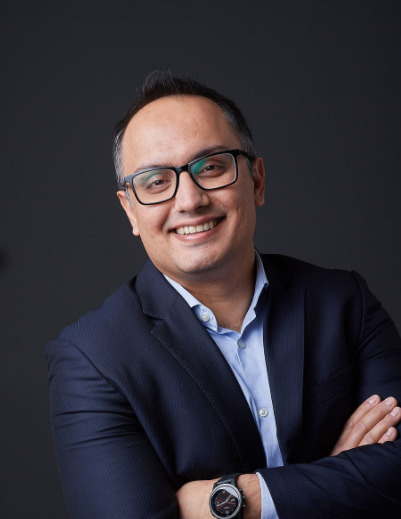 From a start-up helping local small businesses, over a span of 5 years, Usman has built Web Worx Labs to be a leading provider of digital marketing solutions that employs 15+ full-time employees and has customers in over 30 countries.
Outside of work and his passion for all things digital, Usman is a proud father of three, loves running and is an avid reader.
Follow Usman on LinkedIn or Twitter as he is always sharing tips on strategy, branding, marketing and analytics.