October 25, 2020
5 Simple But Powerful Google Ads Tips – Optimization Strategies for 2021 [Updated For 2021]
5 Simple But Powerful Google Ads Optimization Strategies for 2021
Looking for updated Google Ads Tips to help you make the most of your ads in 2021?
Pay Per Click (PPC) campaigns are one of the best and fastest ways to get more targeted traffic, new prospects, and to make your brand known. So, it's not strange to see many marketers trying to create PPC campaigns. However, one of the reasons why many marketers end up spending more money than planned and still not see the results is because they are not optimizing their campaigns.
Ultimately, a PPC campaign that is managed this way can be a waste of time, money, and important resources.
So, how you can keep track of your results from PPC campaigns and get the desired results?
One of the best things about most PPC companies that you can use, like Google Ads, is that they allow you to monitor your results in real-time. So, at any time of the day or night, you can see who's clicking, where they are clicking, when they are navigating within your website, how much time they are there, among many other important things. And when you're not liking what you are seeing, you can simply pause the campaign and try to improve it. It's that simple.
While this is very helpful, the truth is that you need to track and calculate some different metrics to know what you are achieving, if the campaign performance is already good or if it still needs to be improved.
So, here are some of the most important metrics that you should know about and be on top to see if your PPC campaign is working as you expected:
Related: Our Services – Pay Per Click Management
Related: 10 B2B Marketing Strategies That Will Grow Your Business
#1: Set Goals
This all goes without saying that performance measurement comes first with having something to measure against. For every campaign, we highly recommend having a predefined objective. A campaign objective can document:
Whether the campaign is focused on generating awareness or sales
Total budget (daily budget or total budget)
Timing (with an end date or specific period vs. no end date in sight)
Target audience (buyer personas)
Target offering (narrow it to a specific solution/product or overall brand)
Even if you do not have goals, you will need something to assess your performance against. It could be your last campaign or industry benchmarks – whatever it is, it is important to know that you have a relative position against something to compare with. The act of planning a campaign (and answering the above questions) allows you to know in advance what to expect and tweak or "optimize" in real-time your ad strategy to get the desired results.
#2: Clicks & Impressions
Both clicks and impressions are two important metrics that you should look at. Simply put, a click is referred to the number of times that someone clicked on your ad, and an impression refers to the number of times that your ad was displayed.
A click-thru rate is the percentage of times that ad was clicked on from the impressions it got or effectively, the number of clicks divided by the total impressions for that ad.
This Key Performance Indicator (KPI) in the PPC campaign's unit of measure is a percentage or %.
According to a thorough study conducted by Wordstream (a very large PPC agency), the average click-through rate across all industries is 3.17%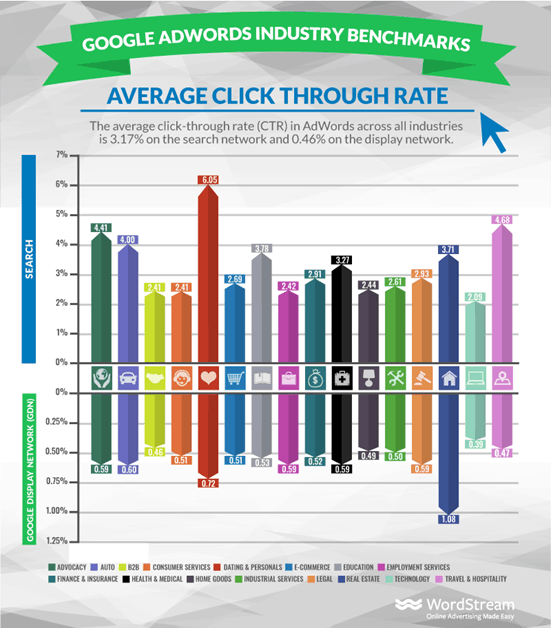 Image Source: Wordstream
So, when you have a lot of clicks in a specific ad, this means that you produced a good click-through rate because the ad was attractive.
If you are getting below industry averages or the overall average, it may be time to revisit your ad and see if it is enticing enough to attract that click.
#3: Cost Per Click (CPC) & Daily Budget:
When you want to measure the results of your ad, one of the metrics that you need to know is the cost per click (on average).
The cost per click is calculated by dividing the number of clicks with the total budget spent.
The reality is that the CPC tends to vary a lot from industry to industry as well as from keyword to keyword.
Usually, the longer the keyword you use, the better your cost per click. However, the longer keywords usually do not have as much search volume so your ad may not get the necessary exposure to get enough clicks.
Use a combination of broad match vs. exact match to target keywords. Depending on your cost per click and daily budget, you may not be getting any visibility in your ads.
Review your average cost per click vs. daily budget. If they are within range of each other, then you may not be able to get one or two clicks per day. Well, that one or two clicks can still translate into a lead or sale, your ad will need a lot more clicks to get a conversion to occur. You need to have a number of clicks and expect a ~3% to 5% conversion from those clicks.

Image Source: Average Conversion Rates by Will Chou From WebMachnix
In our scenario, if you are getting 1 click per day, it may take 20 days for you to get one conversion and while that may be enough for your goals, it may not be yielding the results you are looking for.
#4: Optimization Score:
This score tends to be one of the metrics that many people just don't understand and it has had mixed results for us time and again. However, we do recommend using it to find any obvious and potential areas of improvement in your campaigns.
The Optimization Score KPI is a system-generated number that is attributed by Google to your ad campaign. This number is based on different factors which include the relevancy of your keyword, the quality of your landing page, and the past CTR of your keywords.
The higher the score, the better.

We have found and used the Optimization Score KPI for many tips it recommends, but if left unchecked, it can have unintended consequences.
For example, it could suggest adding keywords that target an audience that the ad or solution we are offering is not intended for. Or it can suggest a substantial increase in budget by suggesting automating the bidding strategy.
Even though it is an important measure, use it wisely and use it to still achieve your goals.
It is a system-generated score and the system may not know all the nuances and specific requirements of your advertising strategy.
#5: Number Of Conversions & Cost Per Conversion:
Since most marketers' goal with a PPC campaign is to increase sales, the number of conversions or the conversion rate tends to assume a very important role and metric.
The conversion rate simply shows you the percentage of the people who took the desired action that you set up as a conversion – whether that is an email sign-up, a phone call, or purchase, or specific event/action on the landing page.
You can easily calculate conversions by dividing the number of people who took action by the number of people who clicked on your ad.
When you have a business, especially if you have a limited budget, you should track all the expenses that you have and understand how much you spent to get a new lead or sale. And this is exactly what you get with the cost per conversion.
Let's say that you made 4 sales and you spent $100 on your campaign. This means that your cost per conversion (CPC) was $25.
Closing Thoughts…
Before any campaign, we encourage you to take a step back and assess your goals. Understand and document in some fashion what you are looking to achieve and then look to optimize.
This principle was true in 2019 and before and it will be true in the future!
As you can see, there are a lot of metrics that can help you monitor and improve your PPC campaigns.
And the truth is that it's not hard to calculate them.
Don't rely on system-generated suggestions at face value, and always look at KPIs in combination as well in isolation. You want to not only see if your ad campaign is going in the right direction, but it is supporting your overall goals which can be assessed when you study a couple of metrics together.
Like anything, monitoring these KPIs regularly will translate into better performance for your ad campaigns.
Have any thoughts on the above strategies? Reach out to us directly here and we would be happy to answer any of your PPC campaign questions!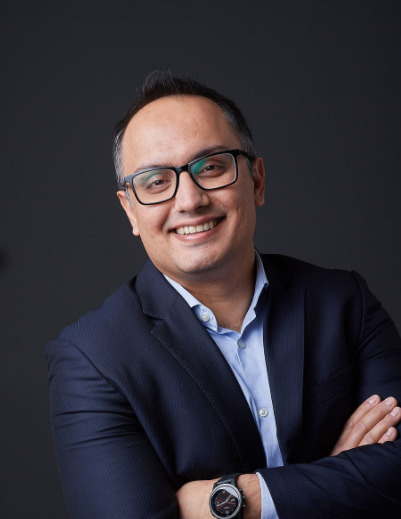 From a start-up helping local small businesses, over a span of 5 years, Usman has built Web Worx Labs to be a leading provider of digital marketing solutions that employs 15+ full-time employees and has customers in over 30 countries.
Outside of work and his passion for all things digital, Usman is a proud father of three, loves running and is an avid reader.
Follow Usman on LinkedIn or Twitter as he is always sharing tips on strategy, branding, marketing and analytics.