August 18, 2021
Cryptocurrency Guide (For Marketers By Marketers)
Cryptocurrency Guide (For Marketers By Marketers)

This blog post is a cryptocurrency guide for marketers, business leaders and anyone who is looking to better understand this technology without getting too technical.
Why are these terms always thrown around and making headlines?  Why should marketers care about it in today's day and age?
This "cryptocurrency" term and others including blockchain, bitcoin, are used today by many techies, bankers, news websites, and some eccentric personalities (think Elon Musk) – but they can be and are still pretty confusing. 
This new technology has taken the world by storm and even brands are now opening up to doing business using this technology (Subway, Microsoft, Burger King, AT&T, among others come to mind).  You can find the full list of brands dabbling in this technology here.
What is cryptocurrency: the official definition:
 I like Investopedia's definition: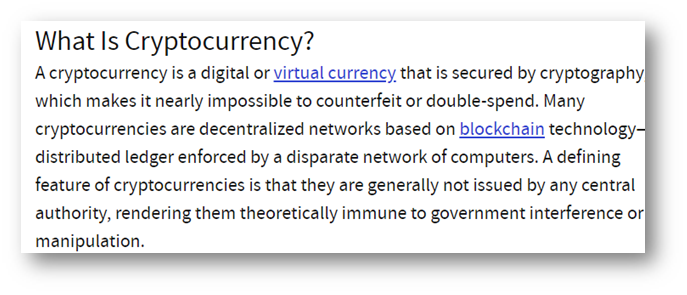 So basically, it is a form of currency.  A virtual one – that can be used for purchasing goods and services.
It uses an online ledger with strong cryptography to secure online transactions which makes it nearly impossible to counterfeit or double-spend. (so it is deemed more secure than our traditional form of currency – "paper money").
The word 'cryptocurrency' is derived from the encryption techniques which are used to secure the network.
This digital money is not regulated by any single authority such as banks or government, making it free from any manipulation and interference.
(This is pretty powerful if you think about it – money that is not centrally regulated and controlled).
It also offers the buyer and seller in a transaction more anonymity than conventional online paying methods.
So more privacy on top of security and less regulation – playing devil's advocate – if I am a criminal – I am loving this form of currency already. (not to say that others would not be attracted to it for the very same reasons).
As mentioned, part of the appeal of this currency is its security which can be owed to blockchain technology- a decentralized technology that is spread across a large number of peer-to-peer computers that simultaneously store and update transactions online according to cryptographical rules.   
Did this just get a bit more confusing again or is it just me?
So let's break it down. 
Blockchain: an open and distributed ledger that records transactions in code.  A block is connected on a chain for every transaction done.
Peer to peer: computers connected using the internet
Cryptographic rules: so using codes to protect information.  This allows for the security to link one block with others (as part of the whole network), while providing encryption and better security.
Putting it together in easier to understand terms – a decentralized technology that uses cryptography (codes to product info) in peer-to-peer systems (computers connected via the internet) to store and update transactions online using the cryptography rules (code).
Hope that explains it a bit better.  If not, no worries, keep reading, more explanations and more importantly why it matters are next.
What is Bitcoin?
The first blockchain-based cryptocurrency was Bitcoin which remains the most trendy and valuable out of all cryptocurrencies (today – this is as of August 2021).
Who created Bitcoin? 
It's still a mystery.
I know – crazy right?
The answer is not as simple because the identity of the creator is unknown and remains a mystery to most.
So far, we do know that in August of 2008, an anonymous person or entity registered the Bitcoin.org domain.
We also know that in the same year, a whitepaper was published highlighting the foundations of how Bitcoin would operate.
In 2009, the first version of Bitcoin was launched by a single person or group under the pseudonym of 'Satoshi Nakamoto'.
Satoshi Nakamoto is rumoured to be the father of this cryptocurrency.  But no one knows for sure.  In fact, he vehemently denied it in 2014 when a story broke in Newsweek at that time.  You can read about it here. 
Mystic?  Believe it.  Creepy – a little maybe.  But all interesting nonetheless (to say the least).
So as expected, given the popularity of Bitcoin, there has been a surge in new currencies, which are either built from scratch or are clones of Bitcoin, each having their own functions, rules and requirements.
How are Bitcoins made?
Bitcoins simply put are mined.
Let's step back again – if you are thinking – what is mining? – again you would not be alone here (I know I was thinking what is the relationship between "mining" and currencies when I got to this section of my learning about Bitcoin).
What Are Miners In Cryptocurrency?
Miners are people who run cryptocurrency software on their computers.  They police the system and verify every transaction to prevent fraud to ensure the legitimacy of the transactions.
Generating for and mining for one bitcoin is when new bitcoins are entered into circulation by using complex and costly machines, algorithms, servers to be allowed to enter to a blockchain ledger (again as mentioned earlier, a blockchain is a specific type of database that stores information in blocks).
Miners play an essential role in securing the Bitcoin network and the transactions.
Each time a miner successfully solves Bitcoin's complex algorithm – a new "block" in the form of bitcoin is added to the ledger.
How Can You Get A Bitcoin By Mining?
So what is a complex algorithm in the case of Bitcoin? 
A really, really hard math problem.
Yes, you read that right.  A math question.  You solve complex math questions that require very costly and super-fast machines that leverage algorithms to work for hours, weeks, or even months to generate an answer to a math question.
To get into the specifics of the math questions and the exact rules of engagement to do it yourself, I recommend this initial read on Investopedia.  I am going to skip over this because this is not the objective of this specific blog (we are looking at it from a marketing perspective – so I am sharing the general concepts – not the detailed technicals and know-how).
Related: What Are Algorithms?
How Are New Blocks Minted?
If you can crack the target number and get the right answer, you are allowed to enter into the ledger with a Bitcoin.  When someone can successfully find the solution, they broadcast it, and are allowed to join by other miners in the blockchain. Once the target answer is met, the new coin is minted and provided to the miner. The miner that mines a block is rewarded through the block reward, a set amount of bitcoins agreed upon by the network. The bitcoins included in the block reward are all new bitcoins. This is the only way that new bitcoins are created.
This process of mining ensures that only miners can generate bitcoins by verifying and processing data preventing people from creating their own bitcoins not issued by the network. This is because Bitcoins rely on strong cryptography to verify every transaction.
In Bitcoin's case, generally speaking – these are the rules of engagement. 
Given the math problems are hard to solve, miners are not necessarily solving the problem, but create algorithms to keep guessing it a ton of times (think millions or even trillions) until they get it correctly.  So brute force is the name of the game for gaining a Bitcoin for most miners these days.  Specialized and super-fast hardware that can guess answers at lighting fast speeds requiring cooling mechanisms and a ton of electricity – are the starting requirements for most miners.
Value of cryptocurrencies in aggregate
Today, the aggregate value of all the cryptocurrencies in existence is around $1.6 trillion—Bitcoin currently represents more than 60% of the total value.

Image & Stats Source: Coin Market Cap
As of August 2021, the value of Bitcoin is approx. $50K CAD or $40K USD.
Why Marketers Should Care?
Understanding cryptocurrency and its underlying blockchain technology are good to know for marketers.
There are no planned out scenarios right now
There is no real guarantee that cryptocurrency will change the landscape for marketing or digital marketing as we know it.
As marketers, (especially as digital marketers) – we have to be aware and continuously adapt, keep up, and stay ahead of the curve with options to find new ways to reach customers, engage with and build lasting relationships with them.
New Platforms For Advertising In The Horizon
There are new platforms up and coming that are using blockchain technology to reward users who use their platform and give control back to the users on which brands and companies can and cannot advertise to them.
So for example, if you like the Nike brand, you can allow their ads to show up on the publishers' space and thereby Nike gets access to your online activities, preferences, gets the right to advertise their products to you, and gains insights from other behavioural data (while keeping your actual identity private – again – one of the biggest pros of blockchain technology). 
The publisher makes money or cut from the ad spend.  You get the user to use this space by providing them BAT (tokens or the digital currency) to stick around and allow themselves to be advertised on.
From a marketing perspective, this may mean that reach, impressions, and thereby potential eventual conversion numbers from advertising on these types of platforms are lower.
It may also mean that conversion rates go higher because you are preaching your latest updates, breakthroughs, and product offers to a more loyal customer base (or at least an interested one) that may be open to your brand selling to them.
It's still too early to tell.
One of the biggest players in this space currently is Basic Attention Token.  You can learn about what this 'exchange' has to offer on their site and more about the rule of engagement for users, publishers, and advertisers here.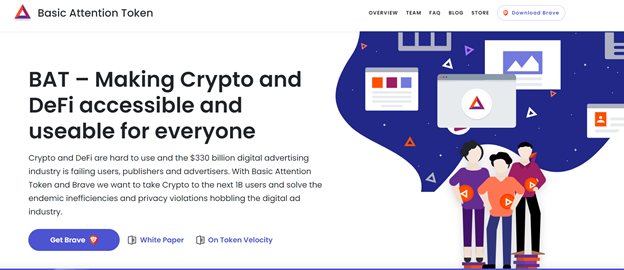 So what's next?…
Bitcoins are complex things.
They are very technical, surrounded by mystery and hard to process.
They also come with some other things that were not covered in this article. Cryptocurrencies, Bitcoin, and its mining have been causing major sustainability concerns amongst economists and environmentalists. That's no surprise given the amount of energy needed to mine Bitcoins as mentioned earlier.  So will "green" brands come on?  Tesla's CEO (Elon Musk) backed out of using this currency because of this very reason (supposedly).  You can read about it more here.
There is no clear view on the horizon right now.  A ton of people, businesses, brands, and even government entities are dabbling in it.  With time and wider accessibility, cryptocurrency, bitcoin and even other types of blockchain currencies will become more mainstream.  They already are in a lot of ways.
Even with all the hype, popularity, mystery surrounding its origins and speculative investors, so far, it has major concerns for businesses due to its high volatility compared to other types of currency.
Then there is the issue of regulation and anonymity – which is one of its biggest strengths, but maybe a cause for concerns given its lure to those of the criminally inclined.
Hopefully, this article gives you a less technical and more marketing overview on the fundamentals of this new technology and why it matters in the business and marketing world. 
I have to say, I enjoyed getting deeper into this cryptocurrency world when writing for this topic for our blog.  It was not an easy one, but an important one – because this topic has made so many headlines as of late and I wanted to start understanding the concepts better as a business leader and a marketer myself. I hope the readers of this blog benefit from it as well.
Again, I know, compared to others who have been in this space for a while, I am only scratching the surface.  So if you have details to add to enlighten our readers or if I misunderstood or misrepresented anything above – mention it in our comments section and I will do my best to address it, add to it or look into it.
Questions, thoughts and or concerns?  Reach out at info@webworxlabs.com and we would be happy to connect.  You can comment below or reach us via our contact us page.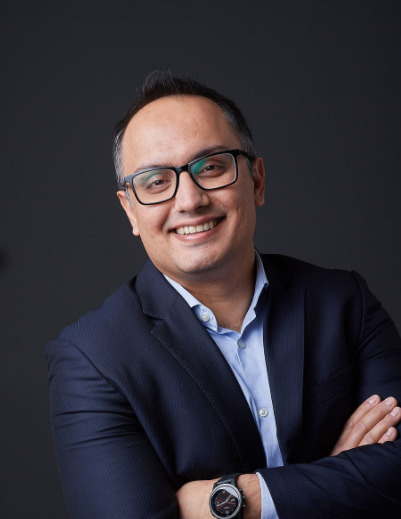 From a start-up helping local small businesses, over a span of 5 years, Usman has built Web Worx Labs to be a leading provider of digital marketing solutions that employs 15+ full-time employees and has customers in over 30 countries.
Outside of work and his passion for all things digital, Usman is a proud father of three, loves running and is an avid reader.
Follow Usman on LinkedIn or Twitter as he is always sharing tips on strategy, branding, marketing and analytics.