How Does A Local School
Gain Competitive Edge?"
With SEO & Ads to Get Discovered Where Parents Are Most Active
BACKGROUND:
ABOUT KABAN MONTESSORI SCHOOL
• Private Montessori & Elementary School
• Headquartered: Mississauga, Ontario
• SEO, Social Media & Google Ads to get discovered
& increase enrolments
Visit their website: www.kabanmontessori.ca

THE CHALLENGE
Digital discovery starts with people searching for any brand offerings online.
Kaban Montessori School is an accredited Montessori School that believes every child benefits from having an education that focuses on their individual strengths and needs. Their classrooms are designed to provide a nurturing environment for children, and their teachers work hard to deliver that experience to each child.
How does Web Worx Labs partner with Kaban Montessori and lead them from no calls to a waiting list of parents looking to sign up their children in their school?
OUR SOLUTION
More Visibility, More Discovery
Before any optimization was done for Kaban Montessori School, their website had 164 organic users, and close to 3,000-page views in a month. Their CTR (Click-through rate) was 1.67%.
Kaban started seeing results 3 months after our SEO efforts. The number of monthly traffic to their site nearly doubled +193%.
They saw a growth of +339% in the number of clicks from impressions, and their click-thru rate increased by +80ppts.
Their organic visits and number of page views in a month increased by 61% and 29%, respectively.
Every 3 months, we kept doubling their exposure with more targeted keywords on the first page and added Google Ads to the mix.

On Site Tours
We took a baseline of average hours per week before the campaign and then 4 months after the campaign. This helped us see what conversions were leading to tours which will then eventually convert into parents admitting their children to Kaban Montessori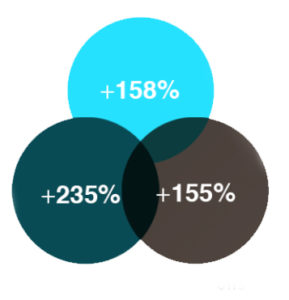 ROI
Every campaign should begin with the ROI in mind. Return On Investments help us ensure that the Cost Per Acquisition of each lead is profitable and optimized. We work the numbers and ensure that the campaign from start to finish is going to provide profitable returns
Conversions
Conversion tracking was instrumental in ensuring that the lead generation strategy was working. Contact Us Pages & Tracking Phone Calls were set up from the beginning to ensure we were tracking the right KPIs
All our efforts resulted in them getting triple exposure on the 1st page of Google for their targeted keywords. They would rank as part of the Local Pack, in the search results below and their ad would show up.
If parents were looking for a school in their market, we made sure that Kaban Montessori was always in consideration.
"The results so far are amazing. We loved the fact that we could rank from page 20 even after a full redesign to the first page of Google for our targeted keywords within 5 months!"
– Blanca Sanchez – Director, Kaban Montessori
" Our leads continue to grow. We give more tours and have more phone calls inquiring about our school than before. By having Web Worx Labs managing our SEO and Social Media Channels for us, it gives us more time to focus on our customers and students. They offer a fantastic service and always goes out of the way to help us. We have peace of mind that we are in the right hands and that Web Works Labs are taking care of us to help our School grow. "
By having Web Worx Labs manage our SEO and Social Media channels for us, we have more time to focus on our customers and students.
Kaban Montessori School
-Karia Escobedo, Director
Let's Build Your Success Story Together
Oh and don't worry – coffee is on us!